December 9, 2011
Win Dr Oetker Baking Goodies for the Holidays [CLOSED]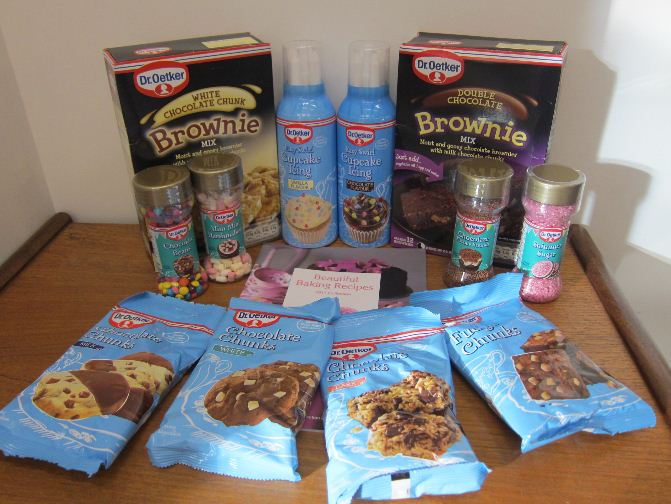 Tis the season to get baking and there's no better way to get baking than with Dr Oetker. If you remember, husband preferred the Dr Oetker brownies and your family may as well so why not find out by entering to win these yummy goodies from the lovely folk at Dr Oetker!
I have to admit, I've started buying Dr Oetker to havein the house. A bit of oil, an egg, etc. and voila you have chocolate chunk cookies or chocolate chunk brownies or cake or more. It is just a whole lot of awesomeness in a box or a bag and in this lovely box of bountiful goodness is your key to holiday success.
Besides the great brownies I've already made and the white chocolate chunk brownies, you'll also get some awesome goodies – chocolate and fudge chunks to use in cookies or on cakes or in cupcakes, some amazing sprinkles and mini marshmallows and chocolate beans plus some easy cupcake icing.
This is *EXACTLY* what you'll need for the holidays and Dr Oetker are bringing it your way in a lovely hamper of baking goodness.  In fact, I'm so jealous I'm going to buy some cookie mix and make myself some cookies! You'll get everything you see in the image and let me tell you it is a whole lot of awesomeness.  Why not try the earl grey tea cupcakes or the toblerone shortbread with the goodies you have? How about even more brownies or maybe chocolate cupcakes.
Whatever you try, make sure you pick up your extra baking supplies from the supermarket and take it from someone who has both been given and bought Dr Oetker baking supplies – they are a name I trust along with Betty Crocker 🙂
How to WIN these awesome goodies! You can enter one of 3 ways:
Leave a comment with your favourite recipe on this blog and why you like it (you don't have to leave the whole thing)
Tweet "I'm baking with Dr Oetker and @mostlyaboutchoc this holiday & you could too – check out http://bit.ly/s3LNQY"
Comment on this post on Mostly About Chocolate on Facebook and tell me about a baking disaster you want to avoid by using these Dr Oetker goodies!
I will use Random.org to choose between these 3 entry methods then I will use Random.org to select the winner.
GOOD LUCK EVERYONE!
And to the rules:
1.Only one entry per method per household.
2.The competition closes on 15th December 2011 at 12 noon.
3.Only open to those 14 or over on 5th December 2011.
4.I'll choose 1 winner randomly
5.Only available to UK addresses.
6.No cash alternative available.
7.Your details won't be passed onto anyone else except the Dr Oetker folk who will be sending you the prize!