Featured Article
I was invited for afternoon tea and fell in love with the space instead. If you are a woman with a need for co-working space or a members club space, you need to join AllBright. Co-Working spaces don't often come as woman-focused and owned an ...
Slider by IWEBIX
Latest Post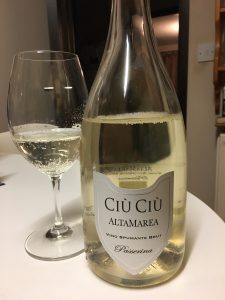 Like a jilted lover, the aggressive sour and bitterness of Ciù Ciù was much like being hit in the face with a Granny Smith apple… hard… repeatedly. The flavour of this sparkling passerina when first opened was too much for me – the intense, eye-watering sourness was like a slightly under-ripe granny smith apple with the bitterness of the skin in the way it finished.
The next day, however, the sour bitterness of the initial break-up was replaced with the sad reflectiveness that comes with time – still an acidity remained but the beautiful flavours more typical of the grape started showing through. Soft white fruits of apple and a touch of pear combined with an almost salty minerality to join with a nose that at times hinted at jasmine but mainly boldly announced apple, apple, and APPLE.
The bitter finish never truly leaves, much like the pain of a broken heart, but it is muted… finding a balance that is less aggressive.
Passerina is not a grape I was familiar with prior to being gifted this bottle by a friend. I wasn't sure what to expect and to begin with I was not a fan but as with many things, the calmness after the storm of opening the bottle spoke of so much more than first impressions. I have a still wine to try as well from the same friend, but this grape is so rarely made into a sparkling that I had to try it.
This sparkling wine is not just any sparkling wine. Harvested by hand, during first ten days of September, this beautiful Passerina grape is turned into wine through cryomaceration of the grapes, then fermentation of the decated must with selected yeast at a controlled temperature. This slightly crazy sparkling wine is turned into such through aging using the Charmat Martinotti method, froth making process for 25 days, refining with yeast for 3 months.
Would I recommend this? Yes, because each year will be different for and giving her time to get over the heartbreak will result in something special. My friend is such a fan he bought a case and loves it. I might not go for a full case, but I'd definitely buy both the still and sparkling to treat guests to something really unique and flavourful.
Comments Off

on Review of Ciu Ciu Brut Passerina Alta Marea