October 16, 2018
Paul A Young and Chef Adam Handling launch new tasting menu exclusively for Chocolate Week, 15th-21st October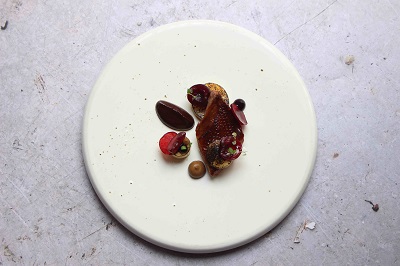 Master chocolatier Paul A Young and multi-award winning chef Adam Handling have collaborated to create the ultimate chocolate menu, only available this Chocolate Week (15-21st October). A celebration of the nation's favourite sweet ingredient, diners will be able to enjoy a sophisticated five-course tasting menu which incorporates the talents of both chefs. Using single-origin bean-to-bar chocolate sourced by Paul from across the globe, the pair of chefs have strived to create a deliciously indulgent menu that demonstrates the versatility of chocolate in all its forms throughout every course. The individual characteristics of each chocolate have been brought to life in each of the courses in this exclusive collaboration.
Launching the first night of Chocolate Week, diners on the 15th will get the opportunity of meeting Adam and Paul to truly kick the week off in style. The deliciously unexpected menu will include the dishes below, as well as a couple of surprises along the way…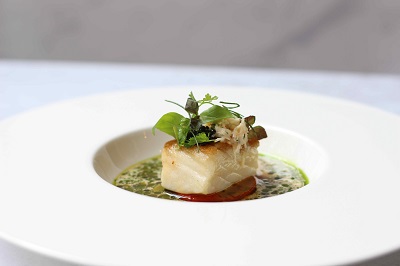 Celeriac, Truffle, Date, Lime
(Duffy's 72% Honduras Indio Rojo Dark Chocolate)
Bourgogne Aligoté en Rateaux, Domaine Gouffier, Burgundy – 2015
Brandade Tortellini, Pickled Leek, Liver
(76% Vanuatu Islands Cacao Dark Chocolate)
Domaine Ott 'Clos Mireille' Blanc de blancs, Côtes du Provence – 2015
Hake, Crab, Tomato
(Guittard Chocolate Soie Blanche 35% White Chocolate)
Xare-lo, Cargol Treu Vi, Alemany I Corrió, Penedés, Spain – 2016
Pigeon, Last Summer's Cherries, Acidulated Chocolate
(Valrhona 64% Madagascan Dark Chocolate)
Dolcetto 'Cherry Fields', Unico Zelo, Clare Valley, Australia – 2017
Tarragon, Passion Fruit, Chocolate (pre-dessert)
(Duffy's 65% Dominican Republic Dark Chocolate)
Chocolate, Coconut, Pea
(Guittard 65% Madagascan Dark Chocolate)
Tokaji Aszú 'Tokaji Fordítás', Kardos, Mád, Hungary – 2013
Petit Fours
(Guittard 38% Soleil D'Or Milk Chocolate)
(Islands Cacao 76% Vanuatu Dark Chocolate)
Adam's Group Head Sommelier, Kelvin McCabe, has devised an optional wine pairing menu to go alongside the tasting menu, each of which has been chosen to complement and highlight the chocolate used in each dish.
The tasting menu is priced at £70 per person, and £70 for the optional wine pairings. Diners can book their table via: https://www.frogbyadamhandling.com/
Paul A Young is a ground breaking and inspirational chocolatier who is at the forefront of the British chocolate scene. Paul has a reputation as an incredibly creative chocolatier, a flavour alchemist who often incorporates unusual flavours into his chocolates.
Adam Handling's beautifully presented modern British dishes start with careful sourcing of top quality, seasonal ingredients, skilfully prepared to deliver real depth of flavour and harmony with an emphasis on sustainability. Adam currently operates two restaurants, two bars and a café.