September 20, 2018
DIVINE CHOCOLATE INTRODUCES NEW ORGANIC HIGH COCOA RICH & DARK RANGE FEATURING FABULOUS FEELGOOD FLAVOURS AND COCOA FROM SÃO TOMÉ, WEST AFRICA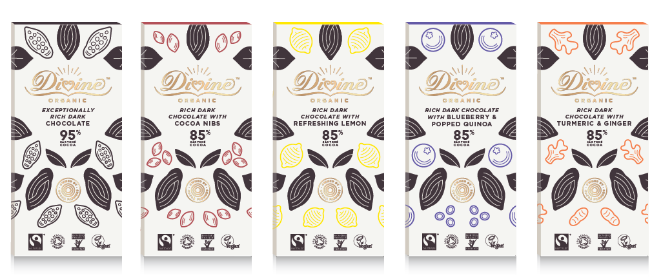 Divine Chocolate, the international Fairtrade company co-owned by farmers, is delighted to introduce its first ever organic dark chocolate range. The new range is made with acclaimed high quality cocoa sourced from smallholder farmers in São Tomé aka 'The Chocolate Island'. Divine Chocolate, a brand already known for its use of innovative flavours, has produced four 80g high intensity flavour combinations and one matchless 95% plain dark bar for chocolate pioneers. Flavour combinations include ginger and turmeric, refreshing lemon, and blueberry and popped quinoa. The focus here being on more healthful and unique treats for chocolate lovers. The new range, which is certified organic and Fairtrade, and 100% vegan, will be available in UK shops from September 2018.
Sophi Tranchell CEO at Divine Chocolate, says: "What is exciting and intriguing chocolate lovers now is being able to discover different cocoas, new flavours and varying intensities of cocoa content. Divine is delighted to have created this tempting new rich dark range bursting with a host of natural feelgood flavours in our first organic chocolate, made with specially sourced cocoa from tropical São Tomé.
With cocoa sourced from the CECAQ-11 farmers' co-operative in São Tomé, and purchased via Fairtrade partner GEPA, Divine's delicious new range is an exploration in rich and intriguing flavour combinations. Discover the heady mix of warming ginger and aromatic turmeric, the delicious duo of real blueberry and popped quinoa, crunchy cocoa nibs, refreshing zesty lemon, and the exceptionally rich and pure 95% cocoa bar.
Packaged in a new garden- fresh style but with the distinctive gold Divine logo and pattern layout, the new organic range comes in pale card with a colour palette and hand-print design capturing the range's exotic origins, ingredients and flavours. The chocolate is wrapped in a clear biodegradable film and we are proud to say that the Divine Organic range packaging is all plastic free.
The Divine team went out recently to meet with the farmers of São Tomé, and to see the dedication and care they put into growing and preparing their cocoa. Farmer Rosa Monteiro was very pleased to hear the news that her co-op's cocoa would be used for the new range, and is fiercely proud of her crop. She said to pass on the message "the cocoa is natural, very delicious and high quality. If you haven't tried it, you're missing out!"
This is the first time Divine Chocolate has sourced cocoa from São Tomé – the tropical island nation off the West Coast of Africa. Originally the biggest producer of cocoa in the world, it is now rejuvenating its cocoa industry, and developing a new reputation for excellence, and organic cocoa with a distinctive rich flavour and fruity notes. Divine is 44% owned by the Kuapa Kokoo farmers' co-operative in Ghana, which means that Divine can deliver the Fairtrade premium to other Fairtrade farmers they buy from, while still delivering profits to Kuapa Kokoo. This way Divine Chocolate is continuing to deliver its mission to create more equitable and empowering trading relationships with smallholder farmers in Africa, and around the world.