December 1, 2018
Metcalfe's Popcorn Candy Cane Bars Recipe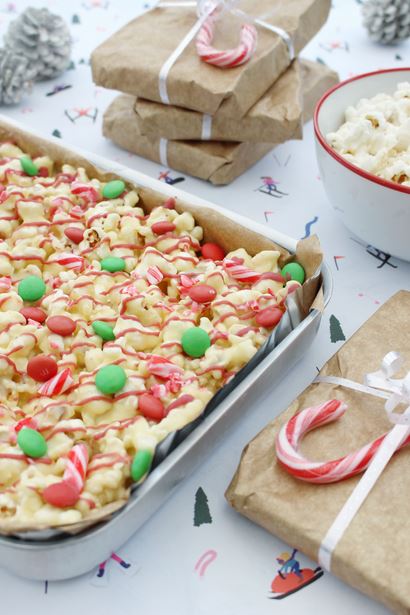 This just makes an amazing gift for Christmas or why not make it with the younger members of the household so to add to the sweets table? These are sweet and easy to make so get melting and get creative!
Ingredients:
100g Metcalfe's cinema sweet popcorn
4 crushed candy canes
100g Smarties
450g white chocolate
100ml double cream mixed with 2 tsp peppermint flavouring
White chocolate and red gel colouring for decoration (optional)
Candy canes to decorate (4)
Method:
Line a 20 x 30cm brownie tin with parchment and set to one side.
Heat the cream & peppermint in the microwave but do not boil.
Pour this over the white chocolate and stir until everything has melted – if the mixture is too thick heat a little in the microwave to loosen.
In a bowl, combine the popcorn, crushed candy canes and half of the chocolate beans.
Pour the melted chocolate over the popcorn and fold with a spatula ensuring everything is coated.
Spoon the mixture into the lined tin and spread out evenly.
Top the bar with the remaining chocolate beans, whole or crushed candy canes and drizzle with the red coloured chocolate.
Allow to set in the fridge for an hour or two or overnight.
Once set, remove from the tin and wrap whole or divide into smaller bars and wrap, ribbon and tag for the perfect edible gift!
You can purchase Metcalfe's Popcorn all over the place so there's no excuse for not getting stuck in and enjoying some sweet treats this Christmas!