November 6, 2010
Best Brownie Recipe: Green & Blacks Ultimate Chocolate Brownies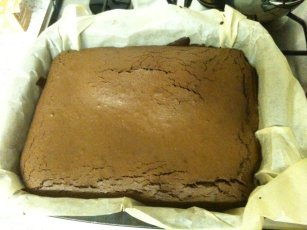 Brownies are something I really love.  REALLY REALLY! As someone who is in love with Paul A Young's chocolate brownies (and the ones with pecans but not the blondies *ewww*), I decided to have a bash at making some myself.  As some of you know, I'm not the world's best cook and with the erupting cupcakes I demonstrated this with alarming visual effects.  SRSLY.
So after the launch event where I got the Green and Blacks Ultimate Cookbook, I decided to give baking another try.
It should be noted that HUSBAND did NOT eat many of these.  He, in fact, ate only THREE of these.  It's one of the reasons I'm not making the sea salt caramel torte next but the choc chip cookies.  I don't think these turned out that badly really…
So first thing I did was to gather all my ingredients.  Nothing like discovering you don't have enough eggs or whatever once you started.  Trust me, once you have the chocolate and butter in the bain-marie you can't recover…
Ultimate Chocolate Brownies Recipe
Ingredients: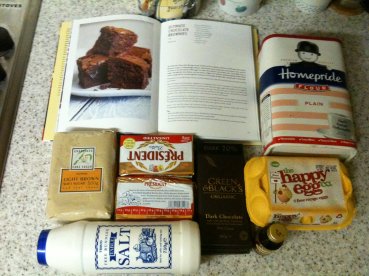 300g unsalted butter
3 x 100g 70% Green and Blacks chocolate bars
5 large free-range eggs
450g soft brown sugar
1 tablespoon vanilla flavouring (I don't have any extract)
200g plain flour
1 teaspoon salt
Instructions: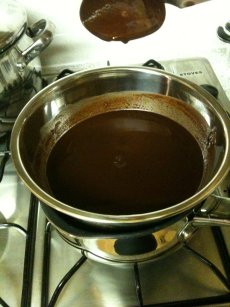 So first thing I did was to put the oven on to 180C and lined the 28cm x 25cm x 5.5cm tin with greaseproof paper.  This was harder than it sounds and resulted in a bubble but more about that later…
I melted the butter and chocolate slowly together.  This is important as if you try and melt this in a pot over direct heat it is doomed to failure.  I melted them in the bain-marie which was my metal mixing bowl over a pan of simmering water.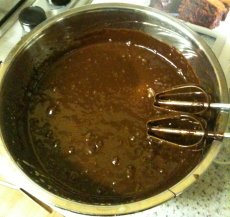 Next I beat the eggs, sugar and vanilla together in another metal bowl.  It says to beat until creamy so it coats the back of a spoon so I guessed.  Once this was all beaten, you need to add this TO the chocolate.  I don't know if it works the other way around but I don't want to try… :-/
I then sift the flour and salt together into the mixture.  As you can see, my "sieve" isn't but hey – needs must!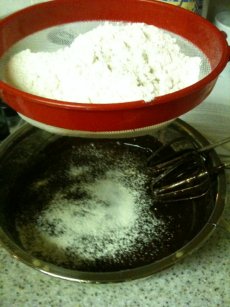 I pour this into the baking tin which is liked with paper and *whoops* you can see I did taste the mix by taking fingerfuls from the spatula.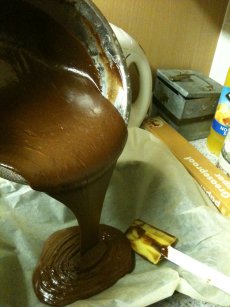 I baked it for 22 minutes and noticed a giant air bubble had formed under the brownies.  I don't know what I did that resulted in this – whether it was the paper or mixing or what.  I think I needed to tap the tray to let the bubbles out and I hadn't. When they came out they looked amazing but they were raw in the middle.  I realised that they were best the next day when the uncooked part had actually firmed up and was a delicious moist middle.
So all in all a good brownie.  I just don't understand why husband didn't like them.