November 5, 2010
Chocolate and Love Filthy Rich 71% Dark Chocolate Bar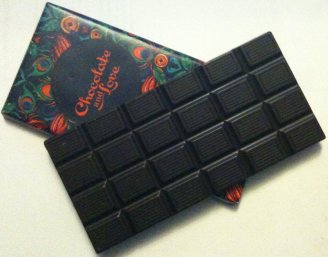 This is one of the bars I got at the lovely Chocolate Unwrapped event from the amazing ethical chocolate company Chocolate and Love.
The bar is a lovely 100g bar in a wrapper that extols the ethical origins of the cocoa beans.  I just love the wrapper and how it displays the information about the beans and ethical origins of the bar.  It really displays a passion for chocolate and ensuring the chocolate doesn't harm the environment.  It is also gluten free, dairy free, GMO free and safe for vegan diets!
The chocolate itself as has a very slight burnt flavour coming through as the chocolate melts in the mouth.  It is smooth with a lovely flavour and isn't too sweet or bitter.  It isn't as acidic as I usually like as I am a huge fan of the fruity flavours I tend to get in Soma chocolate but the chocolate isn't bitter which is a huge bonus because too many dark chocolate bars are bitter.
I really hope, dear readers, that you will consider making an ethical purchase and buy this for cooking, eating or sharing 🙂