October 21, 2011
Love Bakery Earl Grey Cupcake Recipe – from the Cookbook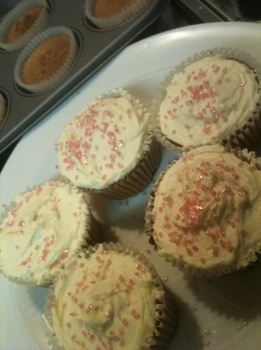 I got the gorgeous book of cupcake recipes from Love Bakery called "Cupcakes from the Heart" and it was so beautiful I had to bake a recipe for National Baking Week.  I baked these and husband and a friend immediately dipped in and ate three so obviously they are yummy.
The book itself was absolutely beautiful.  The pictures are beautiful and the recipes are yummy.  I didn't have any buttermilk which a lot of the recipes seemed to call for so I had to skip a lot but these cupcakes are gorgeous.  The recipes also all have the equipment you'll need which is useful.
I made these cupcakes my way which I've listed below and so it is slightly different than the recommended way.  I think I needed a stronger tea as I didn't think it worked for me but the guys loved them!
Cakes:
125g unsalted butter at room temperature
125g caster sugar
2 eggs at room temperature
125g self –raising flour
1/2 tsp baking powder
4 tbsp black strong Earl Grey tea, cooled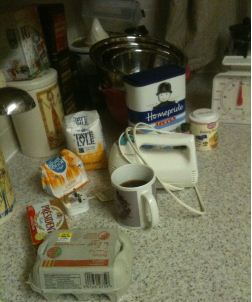 Preheat the oven to 180C and like the muffin tin with paper cups for the cupcakes.
Add butter and caster sugar to a bowl and blend for 7 minutes (ya – I totally did this)
Add eggs, one by one and mix for 2 minutes
Mix the flour and baking powder in a separate bowl and then add to the wet mix for a further minute
Divide the batch evenly using a spoon or better – an ice cream scoop – and put into muffin cups
Place in oven for 25 minutes
Remove the baked cupcakes and let cool before frosting
Frosting:
125g unsalted butter at room temperature
1/2 tsp vanilla extract
250g icing sugar, sifted
1 tbsp black strong Earl Grey tea, cooled
Cream the butter and vanilla extract together with a mixer for around 2 minutes until light and fluffy
Add the icing sugar and tea and mix for a further 2 minutes
I used a knife to spread the icing on the cooled cupcakes and sprinkled with sugar sprinkles!