October 24, 2011
Chocolate Unwrapped – An Event in Retrospect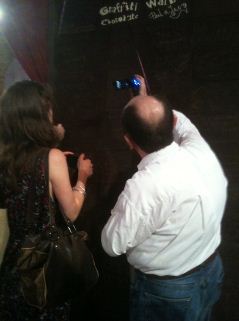 It has come and it has gone for yet another year but Chocolate Unwrapped will linger in my memory for years to come I am sure.  The event which started in a hotel in Mayfair has grown from humble roots to take over Vinopolis and had such success that they had to employ crowd control on the door!
How can you not swoon with delight when you have the lovely Angus from Hotel Chocolat, Paul A Young, Paul Wayne Gregory, Bill McCarrick, Sun from Lauden, Salvatore from Pacari, Maricel,  and so many other lovely chocolatiers!  If I could have added to the mix Geert Veracruse and Pierre Marcolini I think I might have thought I had died and gone to heaven.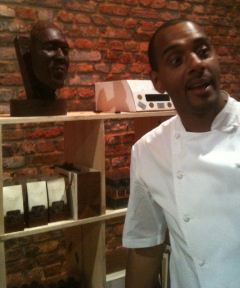 Chocolate Unwrapped is like coming home to a Canadian Thanksgiving dinner – when all these chocolatiers come together who I have met over the years and written about and enjoyed the chocolates of and finally get to see again. I get a hug from Damian Allsop, a kiss on the cheek from Lucky's and a full on attack cuddle.  It's like all my friends have come together to enjoy chocolate.
The main reason for visiting, of course, is the chocolate.  My goodness but it is a joy to go to this event and have all these chocolate makers and chocolatiers under one roof.  Instead of having to trek all over town they are all here in one place and I can shop until I drop at them all 😀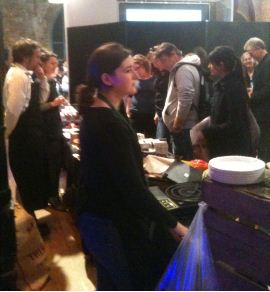 Chocolate Unwrapped happens on the penultimate and final days of Chocolate Week – a week dedicated to the most glorious of all products on the planet.  In fact, the earth may very well be the only planet with chocolate so it is vital we protect it and the key growing regions.
Besides being a place to shop, it is also a place to discover.  I found 3 Hungarian chocolatiers and with my step-grandfather being Hungarian I was of course keen to see their wares.  In fact you'll see some reviews of their chocolate going live over the next short while I hope.  In addition to the Hungarian chocolatiers, there was Idilio who I was thrilled to meet in person at last and the Belgian chocolate company who I'm going to be reviewing the chocolate I bought, come of which is made with the sugar of the coconut flower.  Yes – you heard me right – sugar made from the blossom of the coconut before it is allowed to become a coconut!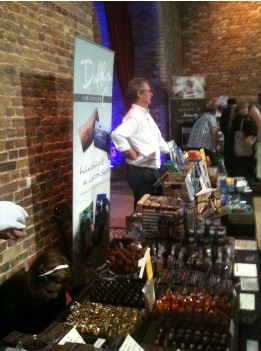 Don't let chocolate week escape you – keep it alive by continuing to purchase high quality chocolate and support chocolate makers like Duffy who are keeping it British and making a brilliant quality product.