October 20, 2011
Jaz & Jul's Gingerbread Hot Chocolate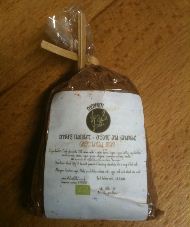 I had the good fortune of meeting up with the dynamic duo that is 'Jaz and Jul's' from Jaz and Jules Hot Chocolate.  Creating a specialist product in a niche market isn't easy and they have attacked it with energy and a great positive attitude.  They gave me a sample of their lemongrass and lime to try of the stand and sent me away with a complimentary sample of their gingerbread hot chocolate to try.
Now, the last time I tried a "Gingerbread" hot chocolate was the Hotel Chocolat Christmas collection 2010 and it didn't last.  The warming ginger with the lovely hot chocolate just hit the spot when I was cold through the winder though I know it was too much for some.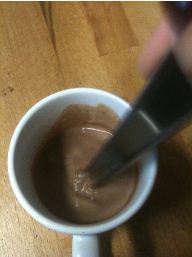 Jaz & Juls have created an interesting blend with a quality chocolate and blended that chocolate with spices to create their Gingerbread Hot Chocolate.  According to the instructions they have me, I missed half the packet with 200mL of milk and whisked.  Thank goodness for that whisk from Kokoa Collection!
The chocolate varies in consistency from the powder to chunks and it is lovely and rustic.  It's so much ful to see powder then chocolate chunks tumble into the milk.  So much fum from one mug of hot choc!
The hot chocolate (warm milk and chocolate) was interesting. It was very gingery but the chocolate was also very storng.  The ginger wasn't too spicy hot and so it made for an extremely drinkable hot chocolate.  The chunks completely melted and thanks to my Kokoa Collection whisk, they were beautifully mixed. A uniquely different approach to hot choc!