October 19, 2011
Steenbergs Organic Drinking Chocolate Review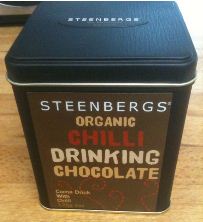 In the next instalment of the hot chocolate drinking week, I was sent three different Steenbergs drinking chocolates – this one, a Christmas one and a plain one.  I decided to save the last two to review a bit later but wanted to share how interesting this was with you all now.
Steenbergs list themselves on the tin as tea merchants.  They are a family-run, friendly firm committed to Fairtrade, the environment and people. It was set up in 2003 by Axel and Sophie Steenberg in North Yorkshire.  In fact, the can is very large and most suitable for tea.  The bag of hot chocolate in the tin is in a clear cellophane bag and the hot chocolate is powdered into a fine powder.  Now, you can imagine my delight at this as the one thing I find a challenge without a whisk is a smooth mix.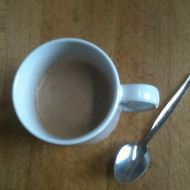 This hot chocolate is made with milk and so I created my concoction with care and precision (I zapped the milk in the microwave and mixed the powder in as per the instructions… sort of).  I found this to have a significant link that was calmed slightly by the milk so each sip I took was 'kapow' on the chilli and then a gradual softening of the heat.
This is a really interesting chilli hot chocolate but with the additional spices this is likely more of a spiced hot chocolate with a hot chilli kick.  Besides sugar and chocolate it has organic ginger , organic cinnamon powder , organic chilli powder, organic allspice powder and organic clove powder . Drinkable with an immediate heat.