December 12, 2011
Thorntons Centenary Box Review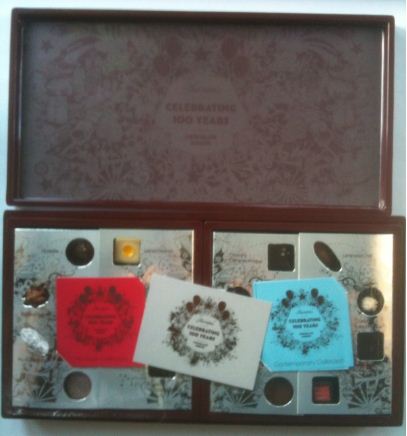 Wow… I cannot tell you how long I have coveted this box.  Oh the joy! This box of chocolate showcases chocolates from when Thorntons started in business 100 years ago and also includes a selection of the newest most modern collection.
This collection is delivered in a really heavy faux lacquer-ware box with 2 further matching trays that once you've eaten the chocolates from within it will make the perfect show-off serving dishes. The design is gorgeous and absolutely stunning.  For any Thorntons fan this will be a treasure. A forever keepsake once the chocolates are gone.
The collection has only 28 chocolates in it with a block of chocolate.  The box though is massive and weighs a ton. You really are paying for the box which will last forever and has the centenary artwork inlaid into it.  I decided to go through each chocolate from the past and the present and see whether I liked it.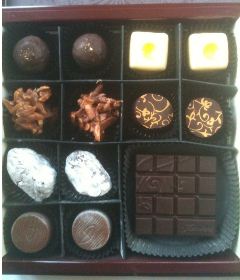 The chocolates  from 100 years ago:
Caramel Cup – This was quite sweet and I have to admit I guess I wasn't in a sweet mood as it was a bit too much for me. It was OK but the milk chocolate and sweet caramel was a bit too sweet for me to have more than one 😉
Almond Rocher – I loved this one. It was delightful. I loved that there wasn't too much chocolate, lots of slivers of nut and fresh, fresh, fresh! I loved this one and could have done with more than 2
Lemon Manon – this is really interesting – really lemony and zingy but slightly sweet for me possibly because it is white chocolate. I did like it though I could only manage a half a one.
Grand Marnier – This is apparently truffle centre and with the darker chocolate it is nice. The taste of the Grand Marnier is extremely strong and I think that the dark chocolate is slightly sharp for me after all the sweet.
Rio Butterscotch – I'm not sure what I think about this one… It is really kind of nice and weird and crunchy and nutty but well balanced. I like it I think but I'm not 100% sure if I love it. But I definitely do like it and I think I'd buy it as a one-off.
Noisette– this apparently has Marc de Champagne mousse encased in dark choc finished with white choc and a sprinkle of croquant granules. This one was a bit sweet for me but overall I think there is a theme of sweet in here.
Crudo Chocolate block – this is apparently how chocolate would have tasted 100 years ago – gritty and intense with vanilla notes, cinnamon, and intense nutmeg. Not unpleasant but not my personal favourite.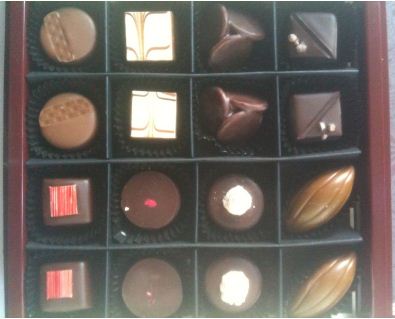 Chocolates from today:
Raspberry and Rose – an award-winning chocolate this had raspberry jam with raspberry ganache and subtle hints of rose. Absolutely delightful. The perfect balance of dark chocolate flavours, sharp acidic flavours and sweetness.
Mango and Orange Creme – zingy mango with a sweet orange it has a distinctly mango flavour which overpowers the orange until the end when you are left with a lingering orange hint.
Lime & Chilli  – a dense chocolate with a strong immediate flavour of lime which lasts before you get a light warming hint of chilli. I liked it though it was a bit dense – I might have liked something a bit smoother – more ready to melt.
Crunchy Salted Praline – apparently this was a hazelnut praline with Cornish sea salt and croquant topped with a whole hazelnut. I'm not a huge fan or praline so this was not a favourite. It is well flavoured though and I think a praline lover is going to love this.
Nougatine Tile Gianguja –this had cool nougatine circular tiles which are propped around a gianduja of almond and hazelnut meaning I liked this one more. I liked the sweetness and the nuttiness but one was enough.
Crunchy Caramel Praline – Apparently pralines are the most popular form of chocolate at Thorntons. I'm not a huge fan. Since this has crunchy bits of caramelised sugar I tried it and liked it but again it was a bit too much for me.  Again I'm thinking praline fans are going to dig this one!
Cut Praline – hazelnuts, toasted almond flakes, orange peel and waffle pieces. What's not to love? This is going to be a praline lovers delight but again as I'm not a massive fan I was finding my hand once again hovering over the Rio Butterscotch…
Strawberry and Balsamic Ganache – the balsamic vinegar is layered into the strawberry jelly making it a really interesting flavour treat. It is unique and different and I liked it despite kind of feeling worried about the balsamic vinegar. It has the flavour but not too strongly making it a pleasant chocolate.
Was it worth it?  For a Thorntons fan this is going to be worth every penny as for years to come they will have a memory of the delightful chocolates. On a per chocolate basis, these are quite expensive but they are special and as a numbered limited edition I have to admit had I not received one I would have been sorely tempted to buy my own box.  Want one of your own? Go to the Thorntons site and special order one fresh! It is really expensive though at £100 so really only someone special will receive one.