July 22, 2011
Dr Oetker Double Chocolate Brownie Mix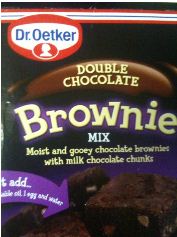 On a busy day when I was dashing all over town I missed cupcake making with Dr Oetker and the lovely Sarah saved me a goodie bag and added a few bits so I could make my own cupcakes. I decided to try and make cupcakes from the brownie mix I got.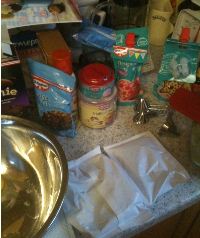 I'm used to making brownies and the huge amount of faf involved so you can imagine how thrilled I was that all I had to do was dump the mix in the bowl, add oil an egg and water and voila I was done. On top of that I had a packet of chocolate chunks. I had nothing to do but mix and decant. Holy cow I forgot how easy cooking with a mix was. Glory glory glory!
So I had all my stuff out and was getting excited about making brownie cupcakes. I was going to draw on them, decorate them and do all sorts with them. What I hadn't counted on was that they wouldn't be suitable for that but I didn't know that when I got excited about it and spread everything out on the counter.
I mixed the chocolate brownie mix in minutes. It was far too easy! Brownies should be more difficult than this! But no – it was easy easy easy. I decanted them into cupcake papers and added water to the empty holes. I don't know why – I just heard somewhere you were supposed to.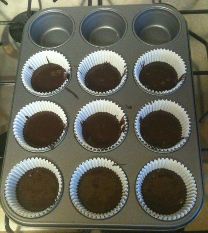 I really thought this was all far too easy. So I mixed, decanted and baked. They came out with that perfect crust on top and just really yummy. They were actually a bit too sweet for me but whereas husband *never* eats my brownies, he ate several of these. Sad but true.
So I ended up leaving them naked but inspired to buy myself some more cake and cookie mixes. I just can't get over how easy it was to make these brownies and how much husband liked them – more than mine made from scratch!