July 21, 2011
Lick The Spoon Chocolate Covered Cinder Toffee Honeycomb Sponge Toffee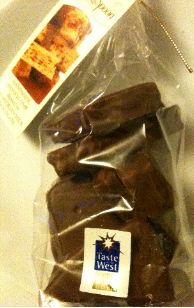 I'm never sure what to call this confection that has bubbles all through its sugary interior and yet while being solid and crunchy is light and airy. In the UK, they seem to call it cinder toffee though the Chocolate Society calls it Hokey Pokey (I have yet to try it). I'm not sure how much moving of arms, legs, shaking and turning oneself about is involved though but if I ever get to try it I shall report back. That is, if I survive the ordeal.
This is much less onerous and in fact is already an award-winning product. The Lick The Spook cinder toffee came in a bag with a delightful pronouncement of their award win and it was well earned judging from the flavours I got when I ate a piece.
One thing I always look for in cinder toffee/sponge toffee/honeycomb/whatever is the flavour of the actual product itself. While the chocolate covering is an added bonus, the featured product is the actual middle – the sponge toffee – and I'm always looking for one with a character of its own. The cinder/sponge toffee has to be distinct from a mere sugary confection and needs to be unique. For me it has to stand out from the rest.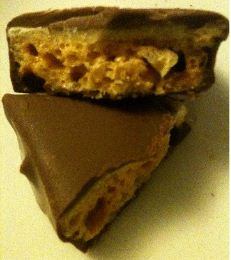 Here we can see why the sponge toffee is an award winner. The cinder toffee has a distinct flavour of molasses but not in a heavy way as it is tempered by another flavour I can't quite put my finger on. The colour is a dark gold and if probably the darkest cinder toffee I've tried. It is really clear why this won an award as the flavour comes through and is complimented by the chocolate. The balance of sweet and molasses with the milk chocolate is perfect for me.
The pieces are single layers unlike other cinder toffee which is odd shapes and stacks, this is a single layer. This makes it both easier to eat and less of a challenge to bite through. The single layer was probably the only thing I didn't like as I love those weird and wacky shapes however I'd be willing to forgive that one thing in the face of a rather delicious cinder toffee. I think the single layer with the chocolate coating means you get to choose from some nice small as well as larger pieces in the bag so you have a choice about how much you eat without cutting a piece up.
I feel that because of the distinct flavour, lovely crunch, nice chocolate and moderate size that anyone can happily enjoy some of this and feel satisfied after just a bit. You don't feel like you need to keep going through the bag but rather feel you'd like to preserve it.