January 23, 2011
Hummingbird Bakery Chocolate Muffins Recipe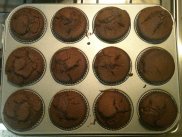 You know those days when nothing but a mug of tea (or coffee) and a lovely chocolate muffin will do?  I have a lot of those and as a result I've found myself cooking brownies, cookies and muffins all too often 🙂
On a particularly bad day after much bad news, I decided to have a bash at some of the recipes in the Hummingbird Bakery cookbook that I got given as a gift. Being in a particularly bitchy mood, I chose the one recipe in the book which would not work the way it was written. That way I could completely feel self-righteous and stick it to someone 😉
Now, as anyone who bakes will tell you, the kind and quality of dark chocolate you use will have an impact on the taste of the finished product.  Thanks to Gail at Green & Blacks among others, I discovered that if you use a higher percentage chocolate bar you have to replace the missing fat with something else like butter.  That means tempting as it may be to use a 85% cocoa chocolate bar, you need to stick with the 70% bars on the market.  Choosing a fair-trade, ethical chocolate is even better so choose Divine or Green & Blacks when you cook or look further afield to Chocolate and Love or the Chocolate Cafe.  In the US and can't easily access these great brands?   Askinosie chocolate is one of my favourite bean to bar producers.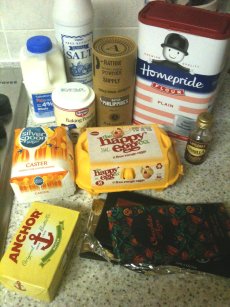 And now to the baking!  To start with, I like to make sure I have everything to pile all the ingredients on the counter, a chair, or wherever.  Here you can see I need to clean the counter and perhaps clear some of the clutter from the counter (to where I always ask myself…) but I mostly have everything.  I lack vanilla extract and so have to settle for vanilla essence.  Not the same but needs must.  Now, I know I have to do more with these ingredients then the instructions suggest so I'm preparing to do battle… TO THE LIST!
Ingredients:
2 eggs
200g caster sugar
130g plain flour
50g cocoa powder
2 teaspoons baking powder
Pinch of salt
160mL whole milk
1/4 teaspoon vanilla extract (1/2 teaspoon vanilla essence)
160g unsalted butter
120g dark chocolate (70 – 72%)
A 12-hole muffin tray lined with muffin paper cases
Instructions:
You'll notice that I have something called American Muffin cases.  These are apparently deeper but I've never use anything else in the last 12 years so I'm not sure whether that's an important distinction or not. Anyway – use these to line your tin – 12 of them!
As always, you need to preheat the oven.  This time, interestingly, we're using a 170C heat for our oven cooking temperature.  Lack of gas oven means I can't simply give up on life and shove my head in so I might as well make these muffins.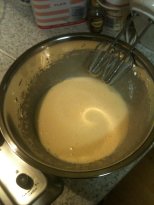 Put the eggs and sugar in one bowl, beat the egg into the sugar.  I like to beat the egg first in one area of the owl then mix into the sugar.  Do this until the two are well combined and turned a light yellow colour.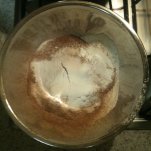 In a different bowl (now now – don't mix yet! Impatient lot you are…) sift together the cocoa powder, flour, and baking powder then add the pinch of salt.
Now, before we go any further, get a pan of water simmering on the stove and a bowl on top of it – not touching the water – and place the butter in it.  We're melting the butter first, chocolate second.  It's OK to reverse it and I have but you have to whisk more if you reverse it as I did.
Now you have the butter melting, measure your milk and add the vanilla extract to it.
Take the powder and the milk and alternatively add this to the sugar and egg mixture, mixing it carefully but perhaps not with the hand mixer as I did (and ended up with a flour explosion).  Blend in bit by bit, adding milk and flour alternatively.  Once finished keep blending until flour is mixed in.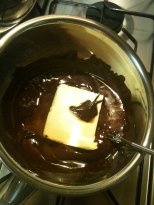 Your butter should be almost or completely melted now.  Break the chocolate into smallish chunks (or the squares they come in) and add these slowly to the butter until all 120g are added.  Now keep mixing the chocolate in the melted butter with a small whisk or a fork until everything is melted and blended together.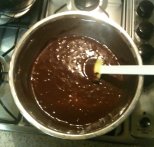 Add this mix once completely melted to the main batter mix and blend in slowly until completely mixed in. Mmmmmm yummy.  At this point I could just eat it raw but I know the best is yet to come…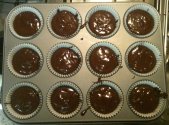 Now, spoon the mixture into the muffin cases.  I use a spatula to make sure I get as much of the mix as possible into the cups and I try and make sure I fill them evenly.  I now measure each one for weight but when I did this, I didn't. If you want to, start at 42g of mix and add more if you have leftovers. I filled them until I used all the batter then popped them in the oven.  They were in my fan oven for about 25 minutes before I took them out but a regular oven will likely need 30 min
Once out they should be allowed to cool slightly before eating.  I found them pleasantly chocolaty but they had a very crumbly consistency and I was frequently annoyed at how quickly they crumbled.  Annoying but still delicious!