January 24, 2011
Cadburys Cocoa House Afternoon Tea Review [UPDATED]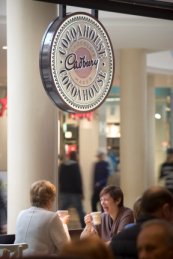 [UPDATE] Seems that this place has gone into liquidation. You can find the notice here: http://www.london-gazette.co.uk/issues/60043/notices/1519395 If you had bought a certificate for later redemption there are details in the comments.
I was lucky enough to be taken to Cadbury's Cocoa House to experience their afternoon tea by their lovely PR person.  She and I chatted the whole way out to Bluewater and so it didn't feel long at all.  In fact, outside the station there was a sign extolling the virtues of the high speed train.  I did travel outside the M25 on the wrong side of London but on this particular day I left the rain behind for the warmth of the cocoa house and the interior of the mall.
At just over £10 for the cab and whatever the train costs, I might not make a specific trip out here but if you live this side of the M25 (people live here?  Really? I thought it was just fields… on the way to France…) it is probably really close and convenient having a massive car park and being completely indoors.  Reminded me of Yorkdake in Toronto only there are no chocolate cafes in Yorkdale.  To find the cafe, we made our way to Ann Summers and right across the hall is the cafe next to another clothes retailer.  Not a bad spot actually and really the Ann Summer is not offensive in the least.  Unless you're a prude in which case I suggest facing with your back to the window 😉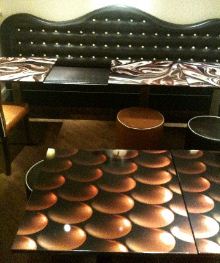 We were seated at a lovely booth with very 50's inspired design elements.  The decoration reminded me of something out of a bag of Allsorts.  Muted but distinct colours with some brown and white pairings along with some pink and a splash of black.  Not at all Cadbury's colours and not at all what I had expected.  The bar when you first entered made it seem like a fancy cocktail bar and the hostess seating was unexpected.  The 50's (and older) music lent an ambiance to it I would imagine the old Lyons tea houses might have had and the girls in their uniforms (brown, not purple) definitely finished it off.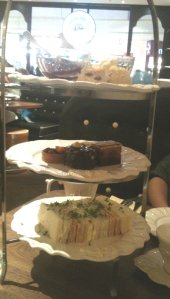 The old Cadbury ads around a fireplace flanked on either side by a stack of teapots making a lamp and a stack of mugs making another lamp.  This crazy corner was a compliment to the area where chocolate decorated the tables, a teacup clock was on the wall and teapot lights illuminated the area.  It's a fun place to go and it isn't super over the top branded. In fact it is easy to forget the branding altogether in here and that's probably because it isn't run by Cadbury's directly.  Anyway – TO THE FOOD!
I was told I could order whatever I wanted so I went with 2 hot chocolates because I couldn't choose between them and then the afternoon tea since that is why we came.  While we were chatting through how responsive the owners were to feedback, it was mentioned that children got free refills on their hot chocolate.  That was not on the menu but I was informed that the helpful waitresses would inform the patrons when ordering.  Frankly if kids get free hot chocolate refills I'd be hanging giant signs everywhere – and parents aren't allowed to help 😉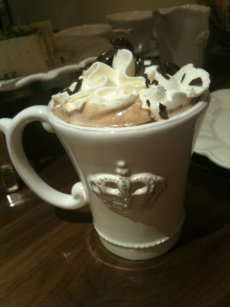 Hot chocolate with espresso – this doesn't come with a free refill but boy did I wish it did.  It wasn't a high quality chocolate but it wasn't meant to be.  It has a huge head of whipped cream and chocolate coffee beans on top of that.  I had to drink a lot at once as once you break the seal on whipped cream and it starts to sink, it is a mess waiting to happen.

Hot chocolate shot – this was the only real disappointment of the day and I did give full and comprehensive feedback including citing blog posts, alternative retailers and offering my own secret stash of chocolate shot from Soma to help.  Yes, I was willing to sacrifice Soma to help.  Why?  This shot was £4.25 but it was just a small hot chocolate from powder.  Not thick, not rich and just a bit disappointing.  Maybe I'll have made a change!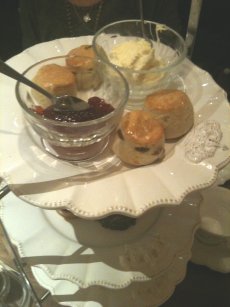 Afternoon tea – this was delish!  You are getting what you pay for so considering it is the most economical high tea I've had you should take that under advisement.  There is a top place with two small scones along with 2 small bowls – one with clotted cream and one with jam.  Nice but not challenging.  The cakes on the next tier down were nice – small but perfectly formed.  The last plate had one finger sandwich per person of egg salad, salmon and cucumber and I really enjoyed these.  I kinda dig that whole crusts cut off thing 🙂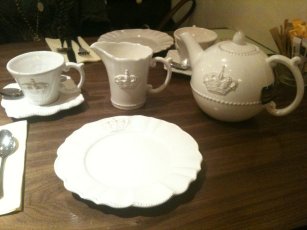 Dishes – the dishes were absolutely tons of fun.  I took a lot of pictures but they didn't turn out too well but besides these awesome dishes there was a teacup clock on the wall and teapot lights as I mentioned above.  This was just a lovely quaint place to have a lovely inexpensive afternoon tea.  This isn't posh so more for a family who have to be a bit careful but really I did love the Hilton and that chocolate plate… 😀