Tag Archives:
nutty chocolate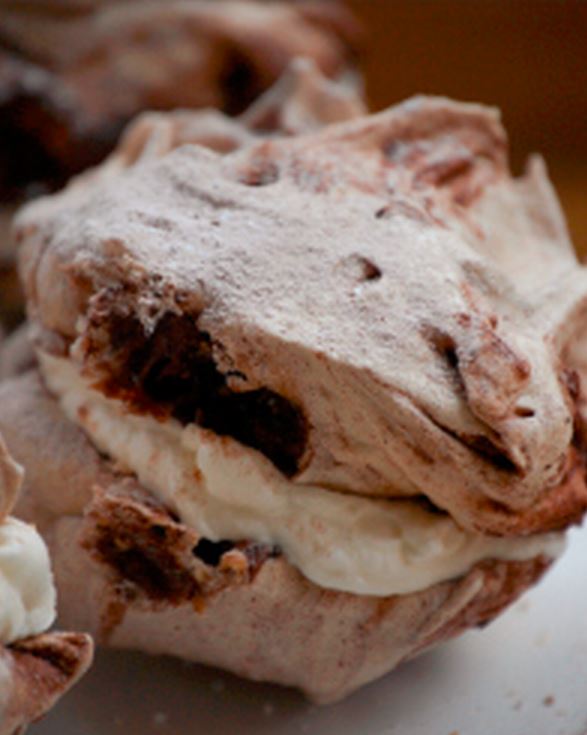 Ingredients: 4 medium egg whites 175g caster sugar 75g toasted chopped hazelnuts 1 1/2 tbsp of cocoa powder 250ml double cream 50g sugar Method: 1. Preheat oven to 140c (275f) and line two baking trays with baking parchment paper 2. Put 50g of hazelnuts in a food processor and ...
Comments Off

on Easy Chocolate Marbled Meringues with Chopped Hazelnuts Dessert Recipe (UK/US Instructions)
I've been lucky enough to meet Amelia Rope and even luckier enough to have been sent some of her chocolate. I was sent a pair of bars and I coveted them, squirreling them away. I put them in my handbag ...
Comments Off

on Amelia Rope Dark Hazelnut & Sea Salt Edition 01 Review
How can I resist trying another Mitzi Blue?  Once again the flavour is a bit of a shock and once again I stick with it to work through that extreme vanilla.  It's just what you're used to and I just ...
Comments Off

on Zotter Mitzi Blue Goldbrittle
I love the name of this bar.  Wait – do I call it a bar?  I mean, it is a circle, not a rectangle and it is well funky.  I mean, I love the circle, I love the triangles and ...
Comments Off

on Zotter Mitzi Blue Nutmix
There is something special for me about a bar of chocolate with almonds. There is something lovely in the melting chocolate and crunchy nut that just speaks to something deep within me – something visceral. Maybe when I was particularly ...
Comments Off

on Rococo Caramelised Almonds in Dark Chocolate Bar Review
Mid-afternoon I always find myself needing a pick-up and having been sent these Mooch Chocolate Milk cans and having placed them immediately in the fridge, I decided to give them a shot. The mid-afternoon is always kind of a ...
Comments Off

on Mooch Cocoa Flavoured Sterilised Milk Drink a.k.a Chocolate Milk
This is a set of 5 hazelnut gianduja squares with a 'dash of milk' added to the 50% chocolate from St Lucia. Each square is set within a separate square of plastic to make sure each square stays perfect. These ...
I must admit that pistachio in chocolate was never a flavour I considered.  In fact, I avoided baklava for years until a friend forced me to try some when I learned I loved it :-) A 32% Madagascar cocoa chocolate covers ...
Comments Off

on Thorntons Milk Chocolate with Pistachio
This bronze award-winning Dominican Republic 60% cocoa with macadamia nuts chocolate was one of five bars sent to me to trial.  I must admit that I'm not a huge fan of Thorntons chocolate but I'm always willing to have my ...