August 2, 2011
Zotter Mitzi Blue Nutmix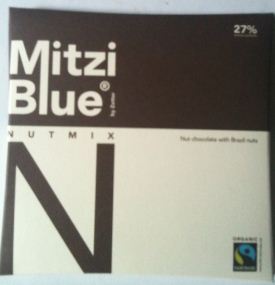 I love the name of this bar.  Wait – do I call it a bar?  I mean, it is a circle, not a rectangle and it is well funky.  I mean, I love the circle, I love the triangles and I love the thinness because I can let it melt.  According to the Zotter website this bar is "an irresistibly delicate disc of fine chocolate in a square pack. A totally new chocolate experience, made from 'bean to bar' by Zotter. Twenty four deliciously innovative varieties for chocolate aficionados to discover." And I got one.  Well two actually.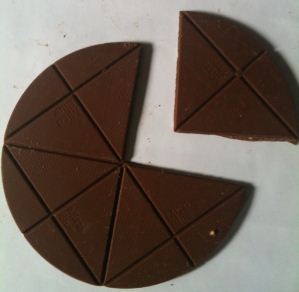 Josef Zotter named the Mitzi Blue range after a sky blue vintage car originally made for an American lady Mitzi Koch, and that later came into his ownership.  I'm pretty sure I knew someone when I was growing up named Mitzi too.  I don't remember if she liked blue or chocolate… 🙂  Like this car, the Mitzi Blue range is also very special, blending the finest cocoa varieties of Criollo and Trinitario with diverse flavours – all wrapped up in an environmentally friendly and CO2 neutral cardboard sleeve printed with food colourings.  I love this environmentally friendly packaging!  It's fun, I love the way it locks together.
The chocolate itself is different.  The first thing I noticed after having eaten a lot of Soma and cooking with a lot of Soma is how different this way but it could be the vanilla.  Soma is vanilla (and all additives) free so tasting chocolate with additives is a bit jarring after that.  Once I got used to it I really enjoyed it.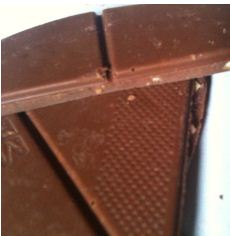 Milk chocolate is often sticky and can be unpleasant to let melt but this was a really pleasant milk chocolate with a yummy flavour.  I loved the sugared hazelnut pieces with bits of sugary and nutty bits in the chocolate.  The mild milk chocolate contains 27% cocoa content which is then blended with hazelnuts and a touch of vanilla.
I had difficulty picking out the unique flavour of the chocolate but overall it was very nice and I loved the shape!