August 1, 2011
Fudge Fancies Hand Crafted Gourmet Fudge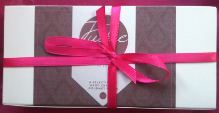 When I got invited to review the creations of the 'Heston Blumenthal of Fudge' from Fudge Fancies, how could I possibly refuse. I have to admit, I was worried about bacon in my fudge or possible something that smoked and then exploded but thankfully what I got was a set of eight what looked like large gourmet chocolates but were in fact fudge. Now, I've reviewed fudge here before and I've eaten even more so I wanted to see what was so special.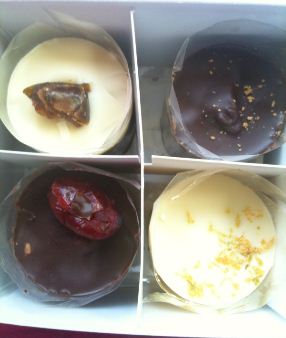 As it would be a bit piggish to eat all eight, I decided to choose 4. Then I simply couldn't make up my mind and went for 5. Before I finish this article I may have chosen more! What I liked was each fudge piece had a full ingredients list under it do you can easily check if there is anything you are allergic to in one. I have to admit, this was not what I was expecting when I said yes to the fudge but I'm certainly glad I did!
Each of these chocolates… errrr… fudge fancies is wrapped in cellophane and I got a box of 8 beautifully displayed. It is simple and yet perfect packaging. I love the labelling and I love how I can recycle all parts of it. I wonder of the cellophane is recycled or recyclable because so much care seems to have been taken with the environmental impact of this product.
I should say something about Mr 'Heston Blumenthal of Fudge'. Michael Goodchild is a former plasterer (yes – he wasn't a lawyer or an IT guy) who gave up his job a year ago to pursue his passion for fudge, which was forged as a child whilst making the family recipe with his grandmother. I mean, who wouldn't fall in love with fudge as a kid, right? All that sugar and fat… YUMMY! Apparently the fudge contains 100% organic dairy, all natural ingredients and absolutely no artificial flavourings and I really think it is reflected in the flavour.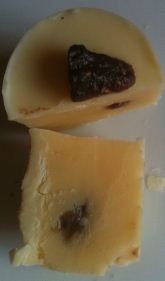 Strawberries & Cream – A white chocolate topped creamy white fudge mixed with dried strawberries. As with all reviewing, I took a small piece of fudge and immediately regretted it. As it melted in my mouth, I knew I was never going to be able to work off all the calories I was about to inhale as I took ever larger pieces. The strawberry pieces were yummy, the fudge had a lovely strawberry and cream flavour which didn't have the usual synthetic edge possibly because there was no synthetic added flavour!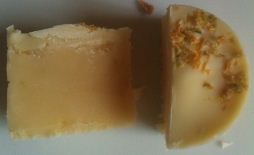 Chocolate Lemon & Lime – White chocolate capped fudge mixed with lemon juice & lime zest. You immediately get a lime then a bit of lemon and the zest on top adds a lovely extra zing. OMG stop me because I can't stop myself. I'm going to get soooo fat! The real joy here is that the natural flavours of the lemon juice and line zest absolutely come through. Od cource the soft fudge is also a fav of mine 🙂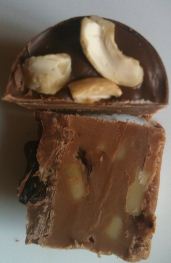 Milk Chocolate Cashew & Raisins – Milk chocolate covered fudge which has been mixed with cashew nuts & raisins. I'm *NOT* a fan of the fruit and nut combination. Yes, I was slightly converted by Hotel Chocolat's Fruit & Nut Wreath but generally I'm not a fan. But faith in hand, having had a brilliant experience so far, I tried this one… well, it's fine. I'm not sure I'd choose this one in a selection but I'd not refuse it. It'd be probably the last one with the crystallised ginger and I'd polish it off too. I like to let the fudge melt in my mouth and with fruit and nut you have to chew it so that's why I'm less of a fan but still YUM!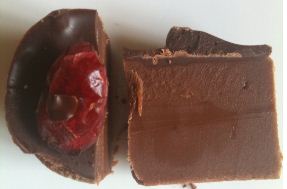 Dark Chocolate & Cranberries – A dark chocolate covered fudge mixed with dried cranberries. Oh ya not *this* is what I'm talking about! A rich, almost fudgy flavour of fudge with a dark chocolate cap and the first piece I had was free of fruit – BEAUTIFUL! I have to admit, I can't eat as much of this as I can of others because it if *so* rich but that just makes it better. I did take more and managed to avoid fruit – woah yum!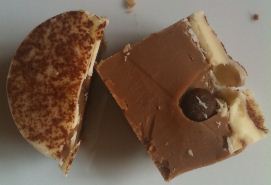 Cappuccino Milk Chocolate With Cinnamon – Milk chocolate fudge mixed with cinnamon & coffee essence covered with white chocolate & topped with a peaberry coffee bean. As you can see, the coffee bean was on the fudge and not the white chocolate. I've also altered the description as it described this as white fudge capped with milk choc and it clearly is not. As to the taste – wow. A gentle build to the cinnamon with a not-too aggressive coffee flavour. I wish there wasn't the white chocolate here because I feel it detracts from the flavour for me because I've never liked it and this one has an excess of vanilla in it which overwhelms the flavour of the fudge at the end. I think if they change the white chocolate used or change it for maybe a sexy rich dark chocolate cap it'd be more of a winner for me.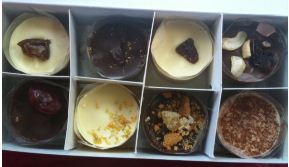 Of the 5 reviewed here, they are really all winners. I get picky with higher quality things because I hold them to a higher standard so when I criticise the flavours here it is because the product is of such a superior quality it has to be held to a higher standard.
I think the best review summary I can give is that I would buy this – I would pay good money for it (£9.60 for 8 or only £4.80 for 4) especially because I can pick my own box flavours. I should say – so would my husband. A rare endorsement from a man in a house piled high with chocolate!