July 29, 2011
Rococo Lavender Dark Chocolate Bar Review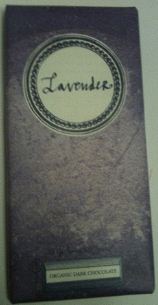 I have to admit, this was the bar I feared the most.  I was so sure I could smell floral notes through the wrapper and I was really concerned.  I think it was the geranium actually but in my mind, the lavender bar was too strong, too much like granny's perfume and tasted terrible and all this before I took a piece.  I try not to judge but with lavender it is hard not to.
I reluctantly placed a piece in my mouth and braced – and I was pleasantly surprised!  In a shock move, the flavour was miles less intense than the geranium & orange.  In fact, the flavour was downright subtle.  Gone are the flavours of synthetic floral notes and intense overwhelming lavender that makes it taste like chewing a lavender bush.
This is a dark, slightly drying chocolate in my mouth.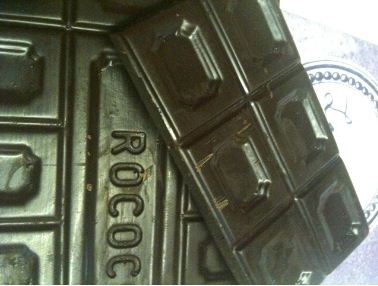 I'm having trouble picking out flavours in the chocolate but the harder part is finding the lavender!  Yes, you read that right – the lavender was so subtle I had to work at identifying it in the dark chocolate.  After it has all melted and the chocolate begins to fade you absolutely find that flavour but as a flavour in the bar it was so subtle as to almost be too subtle.  You don't get the usual dusty flavour of having placed real lavender in the chocolate and yet it isn't the flavour of a cheap essential oil.  If this is using essential oil, I'm betting a high quality, pure breed organic strain was used because how else could this balance be achieved?
For people who enjoy floral bar, I might go with the geranium and orange because that is an in your face, aggressive floral bar.  This is a subtle, gentle, delicate floral that has been so carefully balanced with the dark chocolate as to be almost too subtle.  Magical.