October 12, 2010
Hotel Chocolat Fruit and Nut Wreath in Milk Chocolate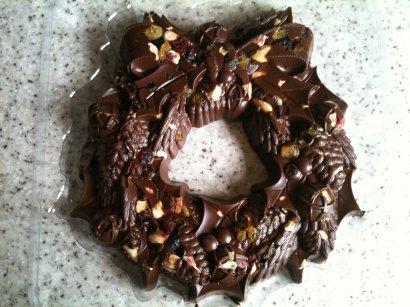 When I first got this as part of the Hotel Chocolat Christmas range, I was skeptical.  I do not like fruit and nut chocolate – I never have.  It just isn't something I have ever ejoyed.  I also saw the dreaded 'pistachio' ingredient which is what kept me away from the whole Christmas range.  That's two for two and I thus did not buy one.  But since it was a gift and in the name of testing, I tried some.
I had the milk chocolate wreath with its extreme fruit and nuts. It was thick and delicious and I was surprised, At least with the truffle tree there were no pistachios but with this chocolate wreath, it had bits in it I should not have liked. I should have hated this chocolate and instead I loved it.  For this treat I wouldn't necessarily let the chocolate melt slowly in my mouth, slowly savouring it and experiencing it like a wine afficianido. I would take a lovely large chunk, take a healthy bite out of it and enjoy the chocolate and rich fruit and nuts.
I really was not convinced before trying it that it was worth it. I always looked at the wreath in the catalogue and the weight and price were abstracts.  This wreath is the size of a dinner plate and so thick that the bow is too thick to easily cut through with a sharp knife.  Having tried this wreath, I am converted to the value of this either as a gift or as a dessert for 4 or 5 people.
The Hotel Chocolat Chocolate wreath *is* lovely and yummy and I will definitely be buying several at the holidays.  Hope they do bulk buy discounts!