October 11, 2010
Demarquette Evening With Chocolate and Qype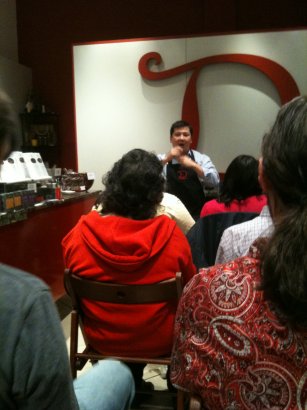 As some of you know, I review stuff at Qype.  In fact, I have created guides to chocolate around the great cities of the world: London, Berlin, Toronto… 🙂  But one of the other things I do get to do with Qype is attend events aimed specifically at small numbers of people.  I've been to a few chocolate ones but this was a first for me at Demarquette.
The chances of me going had started off as slim as I had a full day of work.  I managed to secure a spare slot and began to plot my exit but the fates were with me (and perhaps the boss somehow knew I was out for chocolate) and I escaped and made my way to the shop.
If there was one thing I learned it was that I had forgotten how LONG the walk to Demarquette is.  I'd suggest their 8 minutes and mine aren't the same.  Regardless, I exited South Kensington and after walking at a slower pace than the jammed traffic, hopped on a bus which deposited me right outside the front door of the shop (late as usual).  I dashed in, was handed a glass of red and all the chocolates they had tried up to that point and then sat through some really interesting talks by the head chocolatier.  We got to try a huge number of chocolates including: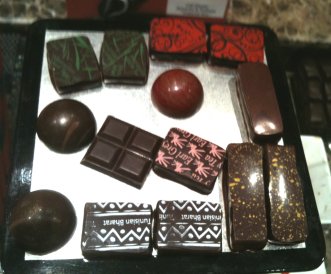 Earl Grey tea – standard earl grey tea flavoured chocolate but thsat still requires skill to get it this perfect
Moroccan mint – very green lovely mint. I just really love this link of mint
Tunisian bharat – slight spice – bit of heat but lovely
Strawberry caramel – like jam! Wow! Jam in a chocolate!
Ben Tre – bar choc, small square, nutty, coarse conch, got high praise – 3 stars at great taste (+milk won too) plus it was nominated as supreme food.  They then were asked to produce 10,000 bars to sell when the usually make 600 a day (or was that 60 a day?) it is made from Vietnamese cocoa beans.
Lemongrass & lime – lemongrass comes clearly through but the lime compliments the flavour
Sezuan pepper – delicate chilli not too strong
Milk choc is made with unrefined sugar so has more of a molassas flavour which was lovely
85% short conch choc bitter dark orange – dark but edible lovely choc with orange kick
Cobnut gianduja with caramel – lovely lightly nutty but sweet with texture of cobnut added in
Whiskey – a little weird and possibly too much for me but everyone loved it
So as you can see, it was a lovely night with lots of chocolate tasting.  Demarquette is a lovely shop and they will give chocolate to people waiting at the bus stop and anyone who comes in the shop to try.  Very generous and very lovely I genuinely enjoyed my experience.  I liked it so much in fact, I bought chocolate for everyone at my office!