October 10, 2010
Divine Chocolate Kicks off Chocolate Week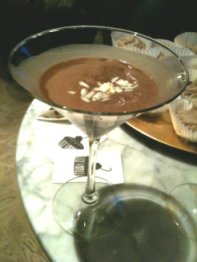 One of the times of the year I absolute love is Chocolate Week.  Regrettably this year I found myself speaking at conferences in Budapest and the Docklands and thus unable to enjoy a chocolate dinner, chocolate tasting, chocolate experiments, chocolate cocktails or any of the other lovely things.
One of the things I did get to enjoy was the kick off to Chocolate Week by Divine chocolate.  Divine has been a sponsor of Chocolate Week for as long as there has been one I think.  I remember regretting not being able to get to a showing of "Chocolat" that was being shown in Oxford I think sponsored by Divine.  Divine also supported me during my low carb years (when I was actually healthier believe it or not) by selling a dark chocolate bar that was low in carbs.  THANK YOU!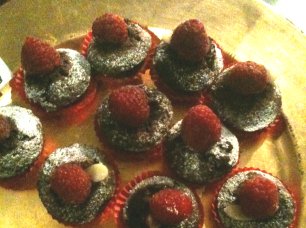 Divine chocolate kicked off chocolate week with a modest chocolate event.  When I say modest, I mean there was not thousands of people crammed in to the Excel centre set upon making my life a living hell.  I swear that crowd followed me… 😀  The beautifully appointed bar at 108 Marlebone Lane was the perfectly beautiful setting for the event which included lovely treats and cocktails.
There were 2 lovely snacks from Lily Vanili we had on the night – one was a meringue with pistachios I think and a little cocoa powder.  It was difficult to know but it was lovely, light and airy.  There was also a slightly cake-y brownie bite made from Divine 85% chocolate which they recently released with a delicious raspberry on top.  While I found it slightly dry, it was enjoyed by all.  My cocktail of choice (because I'm smart and let other people take risks) was the chocolate martini made with Divine chocolate and vodka. You can get the full recipe from Chocablog as well as the recipe for the one I refused to try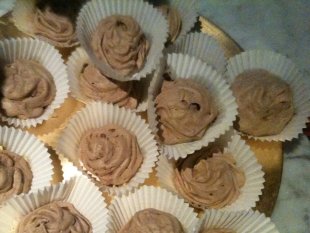 because everyone who did made a face and then couldn't finish it.  The chilli was just too hot apparently.
We also got the lushest, most divine chocolate brownie in our goodie bags which I then took on a flight with me.  It was moist, chocolaty deliciousness from Blue Basil Brownies who used Divine chocolate in their brownies with a lush stripe of chocolate on top.
All in all, a delightful event with a delightful chocolate company.