July 27, 2011
Rococo Caramelised Almonds in Dark Chocolate Bar Review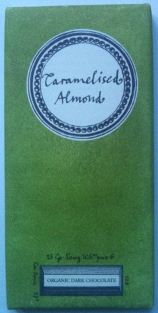 There is something special for me about a bar of chocolate with almonds. There is something lovely in the melting chocolate and crunchy nut that just speaks to something deep within me – something visceral. Maybe when I was particularly upset my mum gave me some chocolate covered almonds or perhaps they were an ultra special treat. Whatever the reason, I've come to love chocolate and almonds and any bar I have has to live up to that childhood fantasy ideal.
As I've mentioned before, you can never go back. You can never recapture the taste of your youth and though Green & Blacks comes close to that childhood chocolate covered almond, it isn't quite there. Nothing will ever be really so I'm always looking for something new. I don't like 'soggy' nuts and so I get rather picky with my nutty chocolate bars.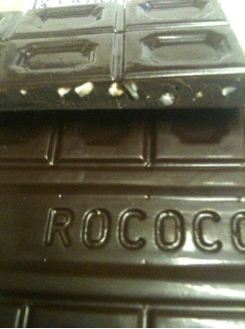 This bar is a slightly bitterer dark chocolate with some lovely small chopped chunks of almonds. I always find that for some reason the inclusion of nuts changes the way I find chocolate melts in my mouth. This chocolate is slightly grainy but not really more so than others but I did notice it more with this bar for some reason. I did eat around 6 squares just to try and identify what I liked about it and the chocolate seems slightly drying but it is still nice. I am, at this point, still tasting the a floral note in the chocolate but I guess once I actually get to the other bars bar I'll either be overwhelmed or it'll be about the same 😀
The chocolate here is slightly less ready to melt in the mouth for me despite being the same as other bars (I assume) and it seems different from the Earl Grey. This is a 65% dark chocolate bar and yet there isn't a stand-out flavour to the chocolate for me but with the caramalised almonds this was no bad thing. Not bad but not a first choice. Maybe I'm a milk chocolate and almonds fan? I think someone who likes a slightly more solid, less readily melted dark chocolate bar would enjoy this.
I'm on the fence. I ate lots of it but I'm undecided if I'll order more from the online shop. There are so many lovely things in the online shop though surely every bar has to have it own special moment and it would be greedy to order more… 😉