July 26, 2011
Rococo Earl Grey Tea Dark Chocolate Bar Review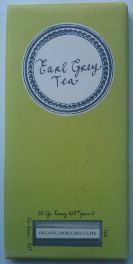 Earl Grey Tea is one of those iconic British things. While just black tea with bergamot really, it still evokes images of tea cups with saucers, afternoon tea and ever so posh behaviour. Earl Grey is one of my favourites for its taste – it is more than just black tea and that little bit extra makes it really delightful for me. You may remember my near-addiction to the Hotel Chocolat Earl Grey bar from before.
Tea and chocolate is a much better, more natural pairing according to chocolate experts. The flavour notes and body of tea are much more closely aligned with chocolate apparently and instead of the intense and overpowering flavours you get from coffee trying to fight with the roasted chocolate, the flavours in tea help lift the chocolate. It's an interesting theory but when it was being worked on, I'm not sure that the intent was to include whole bits of tea in chocolate… and yet that is what the Earl Grey bars I've tried are doing.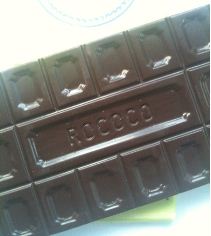 As you can see, this bar looks innocent enough and yet I know it conceals a secret… There are delightful Earl Grey tea leaves in the chocolate. I really enjoy Earl Grey tea & chocolate and I love the tea in this bar. The tea (and something floral not citrus I think I'm getting here maybe?) really overwhelms the chocolate but it seems nice to me. The dark chocolate isn't too drying or chalky flavoured from what I can tell and balances off against the earl grey tea quite well. It is a bar where the flavour builds slowly but if you, like me, savour the chocolate in your mouth, you'll start getting a bitter edge from the tea of all things.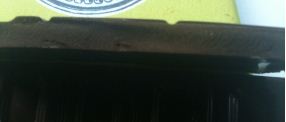 I think the blending here as absolutely perfect. Although the chocolate doesn't have a distinct profile that comes through and perhaps isn't an award winning chocolate like Duffy's or Askinosie, it is actually really nice and not at all challenging. What I can tell from the bar is that it is a really good, really well balanced dark chocolate.