August 4, 2011
Zotter Mitzi Blue Goldbrittle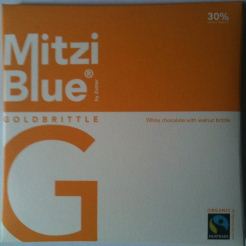 How can I resist trying another Mitzi Blue?  Once again the flavour is a bit of a shock and once again I stick with it to work through that extreme vanilla.  It's just what you're used to and I just happen to have had a lot of Soma recently and so I just needed to get used to it.
The Mitzi blue range has 24 different flavours to it and I got to try 2 of them.  I have to admit I've wanted to try it for awhile and have been fascinated both by the amount of raving people have done about it and also the amount of buzz around Zotter in general.
Zotter is a sexy brand.  My introduction to them was their coffee bar given to me by the absolutely lovely Dom.  I loved the wrapper, I loved the bar, I loved the buzz -I wanted more.  I begged and pleaded and prayed and finally thanks to a lovely gentleman I got lucky.  No, not that kind of lucky – I got chocolate bars sent to me.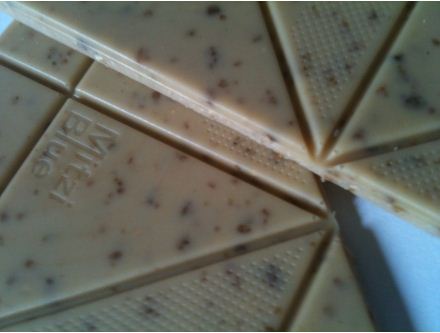 So – the chocolate.  It is extremely sweet as you would expect from a white chocolate.  It is also heavily vanilla in flavour.  That was also no surprise.  The bits in this bar are delightful . I like the walnut and caramel pieces.  Too yummy.  I'm thinking that white chocolate was probably the best pairing for walnut here and so it was absolutely the best pairing to try.  You'll find you get an immediate vanilla hit with this chocolate and it lasts and so if you love that you're going to buy boxes of this chocolate!
I think if I was tweaking it, I'd reduce the vanilla, experiment with some non-deodorised cocoa butter and reduce the sugar in the chocolate and let the caramel pieces carry the sweetness.