August 5, 2011
Zotter Cashew and Pineapple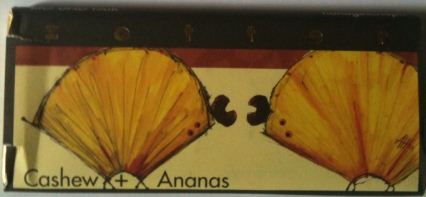 Fear.  It was fear that I felt when I got the box.  I saw the distinctive yellow label on the white box.  The artwork hinting at the unknown inside.  It was a white box.  An innocent white box… and yet the first thing I did was to put it aside and ponder for a moment whether I want to open it.
I knew I had to review whatever was inside and so I opened the box.  I had no idea what I would find inside.  I feared what I would find inside.  I had heard the stories, seen the reviews and I still cannot believe that I'll be able to eat it.  I did eat that peanut butter, watercress and tomato sandwich that Doreen Valiente made for me but that was different…
So I opened it and found four bars inside.  Four mysteries inside. Four new experiences.  Have I saved the best for last?  The worst?  The scariest?  What could this final of the four be?  Is it funny-tasting? Is it safe?  What could it be?  This is pineapple and cashews.  How bad can that be?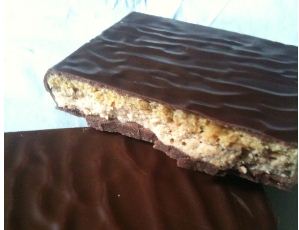 I can clearly taste the pineapple here and there is absolutely some chunks presumably of pineapple.  The cashew seems to be a slightly crunchy background note as the pineapple takes front and centre stage.  Each bite gets you a clear pineapple flavour with chewy pineapple bits.
Again this is not one of the scary challenging flavour bars.  Pineapple is a safe flavour and so is cashew.  It's probably why I took a bite.  And then another.  And another.  Granted pineapple isn't something you get in a standard bar but ketchup seems a lot more challenging to me.  I'm not sure I could do that.