August 8, 2011
Aldi Wine Shock – What I Found When I Opened A Bottle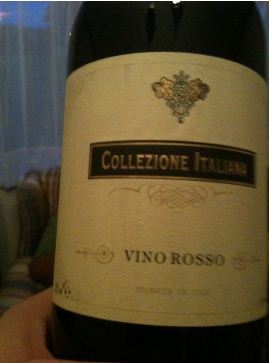 Aldi is jokingly referred to as cheap and cheerful food.  Not great but not bad.  I beg to differ.  In fact after what happened when I opened a bottle of their red I had no choice but to write this post.  It's one of those things you need to share because you simply cannot keep it to yourself.
Let me set the scene for you – it was Christmas in July.  I think it was late July.  I was at a press launch for some Aldi food.  Now, my main interest was Moser Roth.  This surprising little chocolate truffle has not only the most traffic on my blog but packs a heck of a lot of punch for something as innocuous as these truffles were.  There was a glass of bubbly to start which was delightful and some Christmas food which was so good, husband and I have decided to shop at Aldi for all our holiday food.  That was a bit of a shock.  I mean, sure they won awards but to the normal person was the food any good?  Heck yeah! He also highly recommends the mince pies and has yet to report on the Christmas pudding 😉
So I chatted to them about the new Moser Roth bars (embargoed so I'll be blogging their delightfulness later) and at the end of trying some of the best food I'd had since my last trip to M&S I departed with a press pack and some wine to try.  This seemed innocent enough and really – how good was wine for £2.99 really going to be?  Well, it was heavy and the label was pretty and it had a fancy name but it was inexpensive so I shouldn't expect miracles.  I figured it'd be OK for mulled wine and maybe cooking but figured drinking straight might be asking too much.
Delightful!  I'm shocked!  This is an unchallenging, perfectly drinkable red wine.  In fact when I took it to a cocktail event with a group of friends it was almost polished off despite the plethora of alcohol on offer (and trust me it was a shed load of alcohol! – probably because I pour large glasses) ;-).  This red was unassuming and really nothing extravagant but what do you want at the holidays when you have to buy 10 bottles of red – a challenging, complex wine or something everyone is going to love.  Not too dry, not too full of tannin and not too drying, this wine was a delight for the price point.
Would I recommend it?  For the price you are going to find little else which is able to beat it and if you are on a budget and throwing a party this is going to be just right.  For a £2.99 bottle of wine this is great.