August 10, 2011
Boba Popping Cocktails at the Grand Imperial
I got lost.  I got lost because the Grand Imperial is right on the corner around from Victorian and my Google maps said it was further along.  I got lost because I was rushing.  I got lost because I was late.  I was late because I spend an awful lot of time working these days.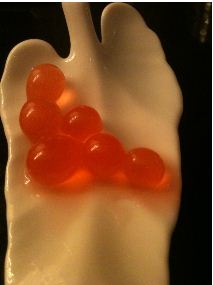 I had gotten an invite to the launch of popping boba cocktails which were described as fruit tapioca.  Ewwwww… tapioca is awful, gross stuff!  I immediately dismissed it then rethought – if I was simply dismissing it, unwilling to try it then how many others did and could I not help by perhaps being the crash test dummy for this new alcoholic sensation?  Well, in the name of blogging, I took the plunge and went.
Tapioca.  That word haunted me all day.  Tapioca. The disgust I felt at the thought of drinking fruity tapioca haunted me.  Imagine it – well, I tried but couldn't.  So I went along to try out this fruity tapioca and found it wasn't what I expected.
As you can see, the leaf shows part of the story. The little bubbles of fruit syrup are a skin of some sort of seaweed extract that creates a semi-permeable membrane that enables the filling of the bubble and even infusing the bubble with alcohol (they are non-alcoholic) but interestingly these are NOT TAPIOCA and should never have been described as such.  I didn't describe them as such!  Here is part of what I received:
"Featured in each cocktail is the latest craze from Taiwan, boba tapioca – delicate translucent pearls containing fruity flavoured juices.  As each miniature ball is captured in between sips these tasty spheres pop in the mouth to release a flavoursome explosion on the tongue." Hello gross tapioca reference.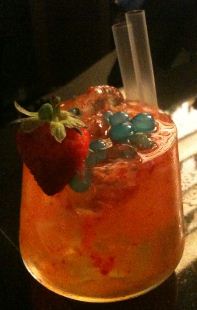 I got a "Trojan" which included rum and ginger beer and, of course, the fruity tapioca… errrr… bubbles of fruit.  Mark Wood, restaurant director for Grand Imperial London said: "We are very excited to be introducing popping boba cocktails. We are adding a little molecular gastronomy and showmanship in what we are offering here at Grand Imperial London. These cocktails are not only a reflection of our Oriental heritage but give our guests an unforgettable summer drinking experience." I say that the fruit balls are fun.  They have a bit of a weird feel in the mouth at first but when you pop one the flood of fruit juice which is both thick and not too sweet (sweet but not like sugar syrup) is delicious and delightful.  I can understand now bubble tea and related items now I know that it is.
It was lovely.  The cocktails at £9.50 are fairly standard in cost for London (or at least the places I've been to) so they are reasonable.  The large straws means you do drink more in order to suck up these pearls but all in all they are lovely and I'd happily pay for one.