January 17, 2012
Amelia Rope Dark Hazelnut & Sea Salt Edition 01 Review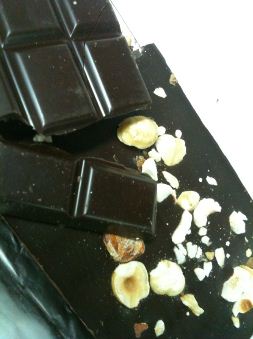 I've been lucky enough to meet Amelia Rope and even luckier enough to have been sent some of her chocolate. I was sent a pair of bars and I coveted them, squirreling them away. I put them in my handbag and secretly took them out to photo and try.
With 69% cocoa and a Madagascan origin, I expected great things from this bar. A nut bar is meant for chewing and so no gentle melting of the chocolate for me and besides – Amelia's chocolate is all about how she pairs the chocolate as well as why she adds what she adds but it is not just about the chocolate.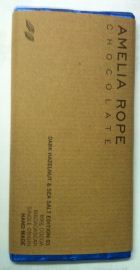 This bar has lovely exposed hazelnuts which are roasted to perfection and crunchy. I enjoyed the haphazard scattering of nuts but mourned the lack at times (as I started at the end with the most nuts).  I did get sea salt at times which was a slight but not unpleasant surprise when I got a bit. It doesn't have the chance to become brine in your mouth as there isn't too much. It is clearly there and there is a distinct salt flavour but it isn't massive.
This is for sure a bar to take a nice bite of and chew to enjoy. Allowing it to melt not only simply softens the nut slightly (sometimes not at all) but the chocolate in the winter I suppose is less ready to melt. It is really much more of a bar to chew.
I did enjoy it as a hazelnut bar. Not as many nuts as Pierre Marcolini but I liked the way these were on the surface and exposed. I am a fan of the caramelised nut so if I was to improve it, I might opt for that but really, I think it is pleasant as it is.