January 16, 2012
Say It With Brownies Chunky Fudge Brownies Review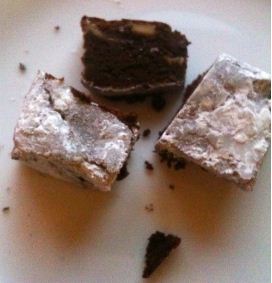 I love me a good brownie and so I was delighted when Say it With Brownies got in touch and offered me the chance to try some of their brownies.  Of course I didn't know quite what to expect but I thought, what the heck, lets be adventurous.
Having chosen fudge brownies I knew that I was going to get something very sweet.  It really is inevitable but what I was curious about was other elements of the brownies like would they be cakey or fudgy or chewy.  I have to admit I'm not as much of a fan of cakey brownies and thankfully these are not cakey but moist and fudgy.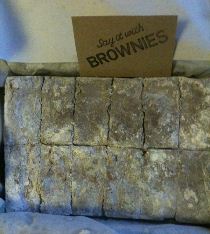 The brownies arrived in a box and within the box they are a block of brownies that are half cut through to help you subdivide them into their intended 12 pieces but as they are not all in pieces it makes them easier to handle.  Interestingly they are moderately dusted with sugar before cutting, leaving icing sugar on all sides and top.  Where the cut marks are, the brownie has developed a little more protection for the precious moistness beneath.
The brownie itself is, of course, sweet.  The fudge, a distinctively flavoured addition to the brownie, is generously distributed within each block you cut.  If you are a fudge fan be not afraid as there is a lot of fudge.  I have to admit I thought of fudge box's fudge and thought of which fudge flavours I might pair with the brownie.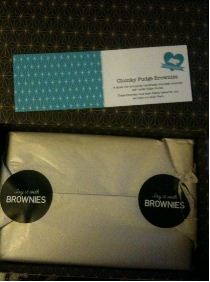 With this brownie you get both edge pieces and middle pieces so no more arguments.  Edge lovers can get their favourite pieces and middle lovers can get theirs.  I am a middle lover, of course but I realise not everyone is.  I also know that most people have a sweeter sweet tooth than I do and I try and keep this in mind when I try things like these brownies.
All in all, these fudge brownies have a lot of fudge all the way through and they are quite sweet.  Because they are not cut completely through before they arrive, they remain as a solid block until you choose to cut a piece off although they are partially cut through to make it easy to also break a piece off if you're famished. The brownies are quite sweet with the fudge and I am sure that will make them the perfect treat for many people.