October 4, 2011
Fudge Box Fudge Selection Review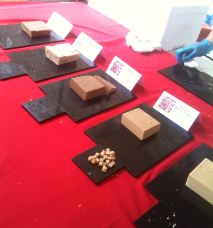 One of the things I love in life is fudge.  Soft fudge is lovely, almost spreadable sugary and fatty goodness.  It is some amazing stuff and it is always lovely to get to enjoy it.  I was extremely lucky to get to try some of the fudge that Fudge Box was selling at the Oxford Castle food festival.  The fudge had proved so popular in fact that he had been forced to return home overnight for more!
I chose a range – Baileys, mocca, chilli and citrus – to test out the fudge.  While I know I love chocolate, chocolate fudge can get a bit heavy (though Fudge Kitchen did do a great job with them.  I also varied the flavours to see how each fudge differed from the others in texture, mouth feel, flavouring and whatnot.  Somewhat extreme for fudge but still fair I think.
White chocolate & Lemon – I really liked this departure from normal fudge.  The bits of zest in the fudge were slightly intrusive to me but I liked the flavouring and the way the flavour was distinct without being artificial.  It melted well in the mouth for me but left those bits of zest behind which was slightly distracting but really would have been an inferior flavour without them.
Coffee Mocha – a distinctly coffee flavour in this fudge meant that husband absconded with just about the whole piece!  While distinct, there was no bitter coffee edge to this fudge and the feel was smooth in my mouth.  I really enjoyed what little of this fudge I did get 😀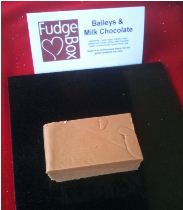 Baileys & Milk Chocolate – this fudge did absolutely have that distinct Baileys flavour of very alcoholic cream with an edge of chocolate but really in all the fudge I just did not get too much chocolate coming through because the other flavours were much more pronounced.  Husband also absconded with this fudge but not before I was able to enjoy a bit more than I did of the coffee 😉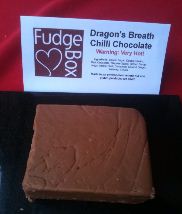 Dragon's Breath – This fudge is a killer to the uninitiated.  It is an extreme chilli flavour without bits of chilli in the fudge. It is strong from the outset with the chilli flavour coming straight through from the first bite to the last morsel.  I had actually held back some of the lemon fudge so I could calm things down after trying it.  This one, husband despite his Welsh roots did not abscond with.
All in all it was delicious fudge I had lots of fun trying.  The flavours were distinct and unique an did not taste samey. There was a great smooth mouth feel to the fudge and I did enjoy it.