January 18, 2012
Grown Up Chocolate Club First Box Review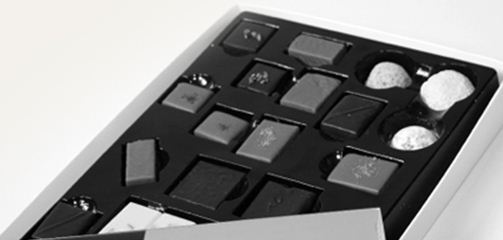 I was sent a box of lovely chocolates from the Grown Up Chocolate Club. Everyone in the office was absolutely envious when I got it and loved the name and the image on the front.  The box attracted a lot of attention and it was quite a feat for me to stop people eating these chocolates before I reviewed them!
The Grown Up chocolate club sent a selection of 17 different chocolates to total 31 chocs all in – most duplicated so delicious ones can be enjoyed again – in a large, safe box. I love the way the box came with an image of the chocolates that could be held over the box as a template of tasting and enabled me to quickly identify the ones I was going to scoff right away…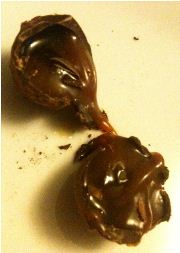 Caramel Truffle – Woah – OK, I wasn't expecting a caramel ball. I was expecting a caramel flavoured ganache. That took me by surprise but I scoffed the lot. I'm not a huge fan of this caramel – a little more dark than I'm used to but not unpleasant. I'm just addicted to Paul A Young ones.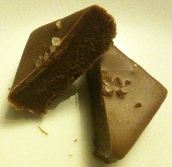 Caramel Square – oh ya well this is like chewy caramel and while I'm not a huge fan of the salt on top I liked it. Much yummier than the truffle (to me) and I loved chewing my way clowly through it. Delicious and fun. I took the second one and hid it.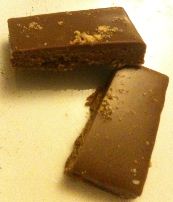 Spiced Biscuit – Hmmm… some praline, some speculoos and it makes a delicious treat. Thin and crunchy and delicious this was yummy. I ate one and it really satisfied me so I took the second one and hid it away.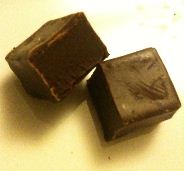 Papua Origin – this is delightful and really does show the nature of the region. This ganache was too good for the office I thought. This was actually really good. I was really surprised by this. I really didn't expect the ganache to be this good. The shocker of the box.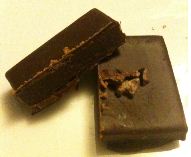 Jasmine – I really enjoyed this jasmine. It wasn't perfumey and it says it is made with organic tea. It isn't as good as Matcha but it is very nice and so it got my seal of approval and pilfered for my personal stash.
There were so many chocolates that I couldn't review them all but what I tried was a pleasant surprise. These are *not* long shelf-life chocolates as they only last for 4 weeks and I think as a result they are really worth a try.
If this company continues creating great quality chocolate like this they are going to have a very popular future as the trend towards artisan chocolate increases.