January 19, 2012
Hotel Chocolat Purist Sambirano Valley 66% Review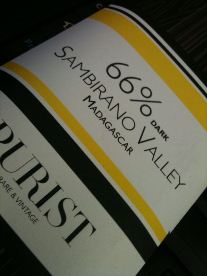 Hotel Chocolat walked away with a number of awards from the Academy of Chocolate and despite staff being clueless about the actual awarded bars, it demonstrates, I feel, the fact that they are doing a lot of things right in the way they treat their beans, farmers and staff.  Despite being a high street chain store, they produce some excellent chocolate and sometimes they even have excellent staff (such as in St Helier, Manchester and St Paul's, LDN).
Thus it was with some joy that I looked forward to their treatment to the almost Porcelana-like beans currently coming from Madagascar. You may remember my utter delight at the Royal Merina chocolates from Demarquette that really captured a lot of what is great about beans growing in this region. Free of the kind of mouth-watering acidity of some regions which really turns some people off, Madagascan chocolate tends to be fudgy and chocolaty without too much red berry, leather or acid.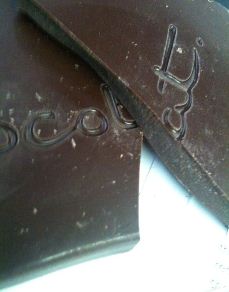 Unlike some chocolates which slap you around the face with a wet fish, this chocolate sneaks up on you and rather humbly presents to you on a small platter a selection of ripe red berries, sweetened with a pinch of extra sugar (this is only a 66%). This is really presented as a subtle offering with the cocoa notes really taking centre stage. The fruits are very much in the background and the melt is surprisingly fast. The finish is clean and you are absolutely left with hints of ripe red berries, especially cherries for me, at the end.
I have to admit, I disagree with their wrapper which seams to heap scorn on overtly red berried Madagascar chocolate and purports that they have improved the roast and flavours. I just don't get it. Mind you, my palette is not wine-standard trained but if I can't detect them, how in the world is Joe/Jane Public meant to find the hint of passion fruit when they are likely struggling to taste the red berries?  So I disagree with their wrapper but overall like the bar.
This is really great for someone looking to make the transition from being a milk lover to discovering the delights of dark chocolate. It is slightly sweeter than a regular dark chocolate and it has a less complex flavour profile. This makes it an ideal bar to move from eating excessively sweet milk chocolate to the less sweet dark chocolates of the world.