Tag Archives:
James Chocolate
I was sent these chocolates for Easter and sadly while their hot cross bun chocolates were absolutely amazing, I didn't get the chance to write it all up. However I was sent more amazing stuff than just the delicious hot ...
Comments Off

on James Chocolates Spring Summer Collection 2015
There's nothing so cute as a chocolate penguin. I mean, look at them! Their little beaks, their cute white bellies and their inexorable march forwards. These little penguins are the latest fun creation from James Chocolates. James started handmaking chocolates ...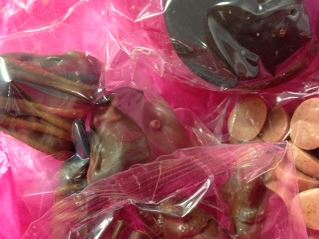 I think James Chocolates chocolate is fun and this box is four times the fun. I love the pink and purple but I also really enjoy the chocolate. Of all the chocolates I brought in to the office, James Chocolates ...
Comments Off

on James Chocolates Chilli Chocolate Sampler Reviewed
It has been far too long since we reviewed something from James Chocolates. In fact, my boss still remembers the chilli honeycomb slathered in chocolate he tried from the last selection of James' chocolate so anything that makes that big ...
Comments Off

on James Chocolate Chocolate Selection Reviewed
This was something a bit different.  Chilli and chocolate is a Mayan tradition (of sorts – or so we are led to believe but they also didn't refine or conch their beans like we do, let alone temper them so...) ...
Comments Off

on James Chocolates Chilli Chocolate Honeycomb
These are quite different - macarons made from chocolate instead of almond flour et al. The chocolate disks as the shell have a firm ganache between them. Macarons seem to be much more in the UK consciousness since Edd won the ...
The smell of the dark chocolate and the look of the egg is lovely. The dark chocolate has the heat of chilli and the popping candy is just thick in there. The heat of the chilli does overwhelm the flavour ...
Comments Off

on James Chocolates Easter Firecracker Egg
Mmmm... milk chocolate and toffee bits. Easter should be about sweet sugary things and this toffee egg is just about the right amount of sweet to ensure your kids (or self) go stratospheric. While there is sea salt in there ...
Comments Off

on James Chocolates Caramel, Vanilla & Seasalt Spot Egg