June 8, 2015
James Chocolates Spring Summer Collection 2015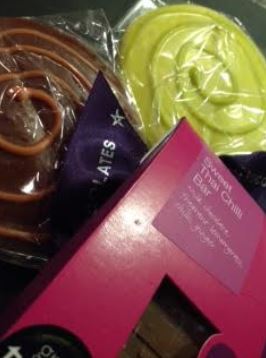 I was sent these chocolates for Easter and sadly while their hot cross bun chocolates were absolutely amazing, I didn't get the chance to write it all up. However I was sent more amazing stuff than just the delicious hot cross bun chocolates (which seriously were delicious so really – watch for them next year).
There were delightful chocolate lollipops popping in my mouth, sweet Thai chili bars warming things and chilli salted nut brittle which was an absolute hit with everyone!
The hot cross chocolates were seriously delicious. The perfect balance of spices in the centre, there was just so much deliciousness to each chocolate and they were so huge it was hard to eat more than one. Savouring the flavour was easy and while this might not be a Paul A Young truffle, it was delightful within its own category.
The Chocolate Lollipops were also delightful with two different "flavours" in the box – lemonade and orange. The lemon with popping candy was tons of fun and I think I know one nephew who would go crazy for one of these 😀 James says on his site that he "ikes to recall his childhood in Devon and this frequently informs his creative confections. While reminiscing about the soft drinks he enjoyed while growing up in the 1970s, he created this Lemonade Lolly." Not sure that's where I would have gone with from the 70's 😉 and the Orangeade chocolate lolly was along the same lines with the site saying "A milk chocolate lolly made with zesty orange and popping candy. This lollly was created as Chief Chocolate Maker James reminisced about the retro soft drinks he enjoyed while growing up in the 1970s. His memories were not touched by French orange drinks that you had to shake before pouring; back then James drank good old fashioned British pop." And yet when I was a kid the ones you had to shake were the desirable ones 😉
The Sweet Thai Chilli Bar was a bit different but still clearly flavoured. I'm not sure what I was expecting – I guess just spice – but I got much more complexity.  Interestingly they have gone with a sweet milk chocolate bar with I guess what could be called classic Thai flavours of ginger, lemongrass and chilli. Yes you read that correctly – LEMONGRASS. It gives it this hint of almost but not quite citrus which is a bit weird but not unpleasant. But what does James say? He says: "In our taste tests, our house blend milk chocolate worked best as the partner to these exotic ingredients. The flavours seem to reach the taste buds in waves with the fragrant lemongrass leading the way, ginger playing a supporting role and the warmth of the chilli arriving as a fab finale. Winner of a Great Taste Gold Award 2013."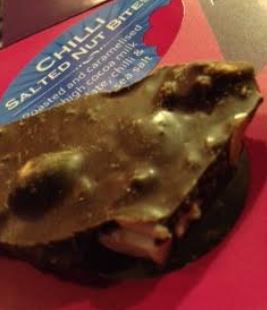 The Chili Salted Nut Brittle is probably the thing I think everyone with me kept reaching back in to the bag for, It was only gently warming so we didn't feel likel our mouths were being burned off and the sweet crunch of the brittle with the salt was moreish plus chocolate. Seriously a winner at any gathering, party or desk so you can buy it with confidence. What does James say? Well "High cocoa milk chocolate and caramelised nuts are combined, then given extra appeal with the addition of British sea salt and just a touch of warming chilli. This chocolately combination is very moreish. It captures the taste and smell of the caramelised nuts that are often sold on city streets and blends it with our delicious high cocoa milk chocolate. On eating, the chocolate and caramel nuttiness of the pecans, hazelnuts, cashews and peanuts are immediately evident while the sea salt arrives very late in the experience. Even later is the warmth of the chilli but don't be scared, we add just a smith to make it extra exciting."
So why not treat yourself and your family to some James Chocolates treats? Just pop over to JAMES CHOCOLATES and go shopping. And while you are at it, get some of the chocolate sheep – they are too cute not to!