November 28, 2011
James Chocolates Award Winning Chocolate Macarons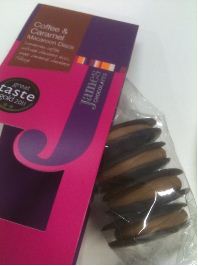 These are quite different – macarons made from chocolate instead of almond flour et al. The chocolate disks as the shell have a firm ganache between them.
Macarons seem to be much more in the UK consciousness since Edd won the Great British Bakeoff – or perhaps I'm just more aware. I seem to see these little gems executed with varying degrees of skill all over the country.
These macarons are interesting. I tried to sample each bit as well as the whole just to get a feel for the flavours of each bit. This is a thick bit of chocolate though so be warned!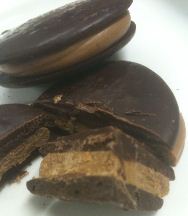 Coffee & Caramel – The solid chocolate disk has coffee secreted within, giving it a very strong coffee flavour whereas the lighter (but still thick) ganache isn't too strongly caramel. Combined you get a delicious combination that will have you taking more and more until you notice you've eaten the whole bag (only 4 so no panic 😉 ).
I shared these with the office & my boss promptly admonished me for not sharing more & declared them the best I had ever shared. Of course, the Soma is at home 😉 These did win 2 gold stars at the Great Taste Awards though so I'm not alone in liking them!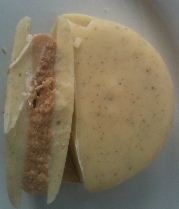 Vanilla Praline – The solid white chocolate had a distinct sweet flavour and very pronounced vanilla flavour which was interesting when set off against the very nutty praline. I think that individually these would have been too intense alone but together they create a delightful flavour. Another delicious combination that was an instant office hit!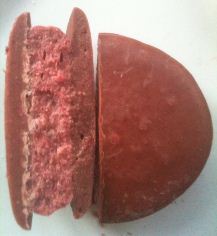 Raspberry – This was raspberry chocolate with raspberry filling. Slightly nutty to my mind but with no praline maybe it was a bit left over from my last munching. Very raspberry with seeds to boot. Very tart and possibly warring for my favourite with the coffee and caramel  I really liked this one for being less sweet, slightly tart and delightfully true to the raspberry flavour. Of the three this is the only one to not win an award and yet I think it is my favourite for it's unrelenting raspberry-ness 🙂
So all in all I enjoyed them but the office *loved* them* & I believe a few orders may be placed as a result – no higher praise I think!