November 25, 2011
Prestat Babies Fruit Jellies covered in Chocolate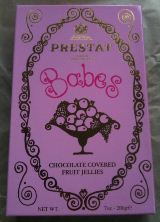 These are absolutely adorable with their babies holding fruits around the outside and bold gold bowl of fruit on the cover.  Prestat certainly knows how to make an impression with their boxes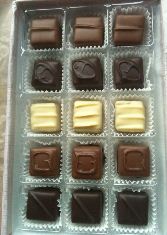 I'm not sure how deliberate the pairings were.  I cut them all open to try and tell what I was eating but it was difficult to tell.  The blackcurrant was absolutely tart against the dark chocolate but I think I liked it better than the (I think) lemon in milk chocolate though the (I think) passion fruit in white chocolate was nice.
What I enjoyed about this box was the variety.  The flavours were, at times, slightly different than I had expected.  I have just had some Demarquette caramels though so I think this is slightly colouring my view of the flavours.  I've gone from something with a short shelf life to something you can safely give as a gift or take with you to deliver as a holiday gift.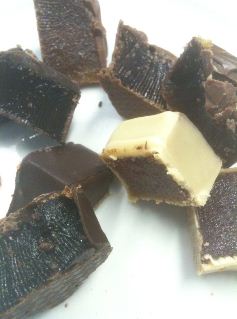 Overall I think that for someone who enjoys a bit of fruit jellies in their lives, this is a beautifully presented box of delicious, tart but sweet jellies.  They are well made jellies, dissolving evenly in your mouth, and have strong flavours (though maybe not as distinct after eating five or six… whoops!).