Tag Archives:
Duffys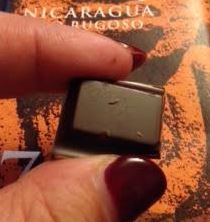 Despite being a chocolate blogger, I'm not super adventurous. While I might trust a PR at an event to share something interesting with me, I don't go seeking out new experiences. I don't really like change… So when Duffy released ...
Comments Off

on Duffys Nicaragua Rico Rugoso 76% Dark Chocolate Bar Reviewed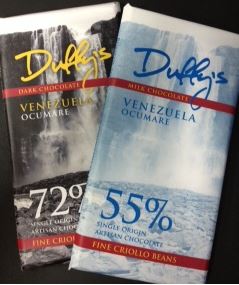 It's rare that a fine quality chocolate is turned into a milk chocolate. There are a few rare examples but generally most people want the beans to shine through with as little added influence as possible. Obviously a 10% bar ...
Comments Off

on Duffy's Venezuela Ocumare Dark and Milk Chocolate Bars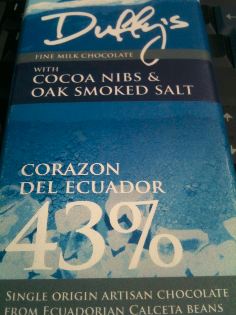 Duffy, as readers of this blog will know, is a race car mechanic. He tours the circuits by weekend and in the week works at the factory – both the car factory and chocolate factory. He also works with some ...
Comments Off

on Duffy's Ecuador Cocoa Nibs & Oak Smoked Salt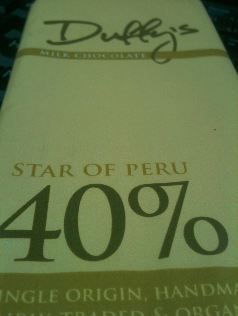 Peru Is somewhere I'd love to visit if they ever sort that bug problem out. Which, given that will be never and I can't take bugs I'm probably going to have to train up to going. A friend has visited ...
When I went to visit Mathilde & David Dewilde I took Mathilde one of each of Duffy's chocolate bars.  Or at least I thought I had but I missed one as I bought 2 of the same one by accident.  ...
Comments Off

on Duffys Nicaragua Chuno Dark Chocolate Bar Review
One of the great delights of being a chocolate reviewer is eating chocolate for breakfast and tea. Why? Because this is when the palette is at its height and you can taste all the subtle taste notes in chocolate. ...
When you get a bar that says it is "handmade with beans from Bocas del Toro Island" beans, the first thing you feel is envy. Envy for the person who gets to travel the world and buy beans from ...
I've been a secret Duffy fan for awhile. I have to be a fan of something to splash the cash really, and I have purchased Duffy's bars more often than I have blogged about them. I have shared ...
I have finally bagged a UK-based chocolate bar before my fellow bloggers and boy was it worth the effort.  Despite being one of the more expensive chocolate bars in Paul A Young at closing in on £1/10g it was absolutely ...
Duffys chocolate bars are made in micro batches somewhere in the middle of nowhere (outside London).  Duffy himself roasts the beans and creates the chocolate bars which are then sold through a few select outlets.  I had the good fortune ...