October 31, 2011
Duffys Nicaragua Chuno Dark Chocolate Bar Review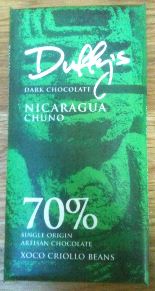 When I went to visit Mathilde & David Dewilde I took Mathilde one of each of Duffy's chocolate bars.  Or at least I thought I had but I missed one as I bought 2 of the same one by accident.  Since Duffy is such awesome chocolate and this was new, I thought rather than be sad, I'd be happy I bought myself a bar to review!
Duffy is a small artisan bean to bar chocolate maker somewhere north of the M25 in the UK.  It all kind of blurs for me outside Zone 1 truth be told (on the tube in London, the areas are marked in zones and zone 1 is very central London) and so while I intellectually know he is in Cleethorpes, I have no conceptual notion of the location of said town without consulting a map. Upon checking in the car for one of those giant UK maps, I discover that it is on the coast by what looks like a river (but it isn't the Thames) and it is not far from a place called "Scunthorpe".
G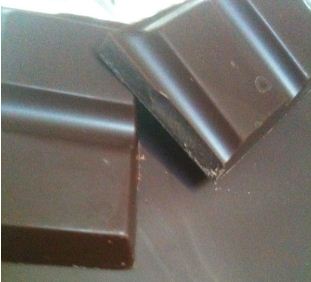 eography and funny town names aside, Duffy is a racing mechanic who decided that he'd make chocolate.  He is a micro-batch artisan producer and as such the chocolate does vary between batches.  He also experiments with non-deodorised cocoa butter and alternative lecithin to enhance and extend the chocolate.  I'm no advocate of lecithin and think the soya one tastes too strong for artisan bars (and Soma is blissfully lecithin-free) but the sunflower lecithin that Duffy is using seems different.
When I say I get dusty red berries you'll know immediately why I'm a fan. The chocolate is rich and pronounced without being earthy or leathery.  The chocolate has this satin, almost sensual taste to it with a mostly smooth mouth feel.  The chocolate settles into a rich chocolate brownie taste and finishes off cleanly. The pack says chestnut but I don't like chestnut and don't get that (thanks goodness).  The flavour lingers for awhile but not too long.
This chocolate is absolutely fantastic and seems to change slightly for me each time I take another piece.  It is absolutely one to savour over a prolonged period of time.  It would be criminal to chew this bar – savour it – let it melt in your mouth and enjoy it!