October 27, 2011
Haagen-Dazs Ice Cream Taste Tester Needed – Open to EVERYONE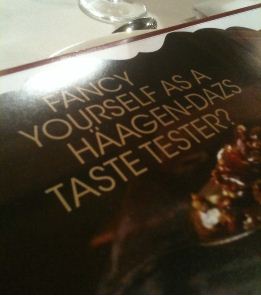 Haagen-Dazs today launched a nationwide search for one lucky individual who will land the opportunity of a lifetime and discover what it is like to be an official Häagen-Dazs Taste Tester.
I got the chance to visit a wonderful penthouse appartment and experiment myself tasting all sorts of goodies and delights!  While I was there I got the chance to taste, sample, and experiment with ice cream we'll never see here like matcha green tea ice cream which is their most expensive to make.  I also got to taste their raw ingredients as well as their ice cream made with additional air.  I was shocked at how wonderful the ice cream was.
Haagen-Dazs ran the blogger event as part of publicising their search.  Heading up the search is chief Taste Tester at Häagen-Dazs, British-born Alison Gray.  Alison holds one of the most desirable jobs in the world, sampling delicious ingredients and developing new flavours for the luxury ice-cream brand.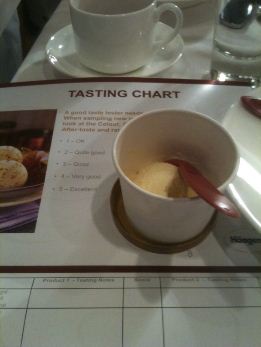 Now, I know I don't think I am suitable for the job of tasting but one lucky member of the UK public will be invited to join Alison and her Research & Development team to learn the art of ice-cream making at Häagen-Dazs HQ in northern France, try their hand at creating unique new flavours, sample hand selected ingredients from around the world, travel to the home of their Belgium chocolate and embark on a flavour tour of London in an effort to produce the very best in ice cream indulgence.  Niiiiiiiiiice!
I'm not sure if that would be a joy or not as I think I'd gain so much weight I'd explode.  I'd love to, but I think that I would not be able to create something that the UK public would like given my love of flavours not popular on the UK market.
Häagen-Dazs is accepting applications for this coveted opportunity over the next four weeks via Facebook and in-store. Aspiring ice cream connoisseurs are being asked to submit up to 200 words on why they think they would be the best person and an image to support their application (an image of them, not just ice cream!). Ten finalists – one selected through a public voting system – will be invited to take part in the final challenge, the Taste Test Masterclass officiated by the Häagen-Dazs Research & Development experts and an independent adjudicator.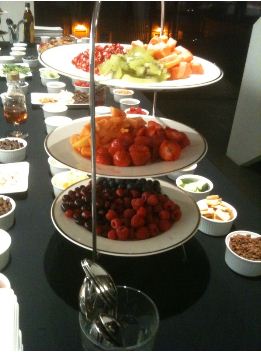 Finalists will be judged on a wide variety of criteria, including passion and enthusiasm for the product, receptiveness of their palate and a unique sense of taste and smell. The successful finalist is then officially invited to volunteer as the 2011 Häagen-Dazs Taste Tester. WOOHOO!!
So volunteer means no pay and of course with the insanity of my job I'd never be able to do it but the evening was such massive fun.  We got to make our own ice cream and after careful consideration and a whole pile of ingredients, we made a cinnamon, pecan and cranberry ice cream which was actually lovely.  It was all part of learning about what the new taste tester will be expected to do.
Speaking about the opportunity, Alison Gray commented, "The crafting of a new ice cream really is an art form. We usually spend around 12 to 18 months developing a new flavour to ensure that it is to the high standard that our customers have come to expect. In fact, we spent over four years searching for the perfect chocolate brownie! It was a tough job, but someone had to do it."  I suppose volunteering to eat a lot of chocolate brownie isn't that bad.  I have, in fact, done it myself for the next instalment of the Great British Brownie Bakeoff!
Gray also warns the aspiring Taste Testers that there is a serious side to this world, "Being a Taste Tester for Häagen-Dazs is not just sitting eating wonderful ice cream. Our palates are valuable assets to the company and to our customers; that means no chewing gum, spicy food and of course, no smoking."
I'm sure that would actually exclude a bunch of people right off.  Ya – all those years you thought you'd quit but didn't quite get around to it have now bitten you in the behind – no ice cream for you 🙁
Gray continued, "We are celebrating a massive milestone this year, being 50 years since Häagen-Dazs first launched. We thought it was a perfect time to open our doors and show how we create our super-premium products and give someone a chance to influence the flavours of the future."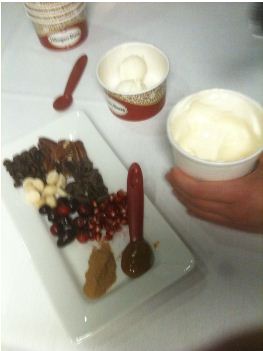 Now, I figured that my ice cream was amazing but it didn't win sadly.  You can see that I took a great deal of care and spent a lot of time considering the flavours and the balance of tastes and whatnot before actually creating the ice cream.  There was a lot of potential in the flavour palette we selected and when it came down to it, the cinnamon in the ice cream was delicious, the pecans balanced out the flavouts and the cranberries were split to add a depth of flavour and crunch to round out the flavours.  While it didn't win, it did get a special mention so I guess that's awesome too 🙂
For more information or to enter or vote in the Häagen-Dazs UK Taste Tester Competition visit www.facebook.com/HaagenDazs
Applications open NOW until Thursday 24th November 2011.
The finalist Taste Test Challenge will take place 3rd December 2011 in London – YUMMY!