May 22, 2014
Duffys Nicaragua Rico Rugoso 76% Dark Chocolate Bar Reviewed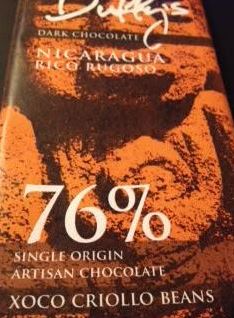 Despite being a chocolate blogger, I'm not super adventurous. While I might trust a PR at an event to share something interesting with me, I don't go seeking out new experiences. I don't really like change… So when Duffy released a new bar from new beans, I had to trust that Duffy wouldn't do me wrong and would make something awesome.
He certainly did.
The Website says "Another rare and fine criollo cocoa bean that needs to be roasted quite heavily before being stone-ground for 3 days to release the full taste potential. We've been lucky enough to get hold of 100kg of "Rugoso" criollo beans from Nicaragua. That's enough to make about 1000 bars of lovely chocolate. We paid the farmers 4 or 5 times the "Fairtrade" price for the beans."
That's one of the things I really love about Duffy – he pays above so-called "fairtrade" prices (yes they are important to have but paying 4x is better 😉 ) and he does amazing things with the beans he gets.
This is just absolutely phenomenal stuff. He has taken the beans and turned them into something mind-blowingly incredible. Really – you have to buy this bar!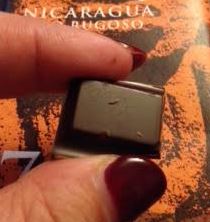 The tasting notes say apricots and brazil nuts… I think maybe ya. Aftertaste of olives – not sure. There is a bit of an astringency here as well as a delightfully amazing finish – with plenty of yellow fruits. This is an amazing bar with stunning flavours which has quite a long finish. Ages after I finish letting the piece melt in my mouth I can still taste the chocolate as it continues to evolve. You really have to take your time with this to ge the flavours out. No chewing but let the piece melt and taste the evolution of the flavours through the slight acidity as you experience the yellow fresh fruits which is built on the brazil nut flavour. I remain unconvinced about the olives though…
This bar will blow you away. If you're worried about dark chocolate being bitter you can leave those fears behind. If you're worried about dark chocolate being boring, this will change your mind. This is one of the most amazing bars I have tried lately and I would happily buy more. Thankfully I bought two when I was at the Chocolate Festival because OMG!