May 21, 2014
Chocolate and Love Panama 80 Dark Chocolate Bar Reviewed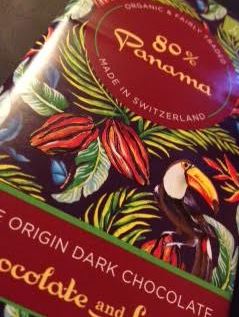 Chocolate and Love is an award winning organic, fair trade chocolate company (4 of their products have won Gold or Silver awards). They produce chocolate from the finest beans from Peru and Dominican Republic and sell in 24 countries around the world.
They focus on quality beans, origins of quality and take pride in creating their chocolate with the minimal added extras. No vegetable oil for these folks – just pure bean to bar chocolate. The packaging is different from what you may have come to expect from a bean to bar company, with bright colours and a lovely pattern. I'm kind of a minimalist myself, preferring the sleek black of the Valrhona boxes.
Don't believe my word for the approach Chocolate & Love take – a word from the CEO: "We believe we have to make changes now otherwise irreversible climate will occur quite quickly and we need to preserve our delicate planet. Small changes in climate can have massive effects in harvests of many crops and these affect millions of people's lives" Given what I've read about farming (fermentation & drying means you can't dump the crop quickly which means money takes longer to come in), it is getting more difficult to get quality beans.
It is important for all chocolate lovers to pay a little bit more for quality. By paying that bit extra, we're saying to bean growers that we're willing to pay the price for quality. We value your hard work and are willing to pay the value of that hard work. Bean growers need to be paid well to keep it up – we need to pay more for good chocolate.
This is, indeed, good chocolate (if not top notch). Despite being dark at 80%, there is a rich chocolate flavour with deep fudgy notes. The flavour doesn't have the fruit I love but the rich fudgy notes are amazing. There is a hint of coffee within the earthy chocolate, and unroasted cashews. This is a different experience but one that may surprise you. If you'd like to steer clear of the acidity I love, this is an amazingly lovely option.
Overall a beautifully crafted bar from the bean with a delightful flavour. It is fudgy with no acidity. If you live that kind of flavour profile, don't be put off by the 80% and give it a shot. You'll be glad you did! BUY ONLINE HERE