May 20, 2014
Soma Ocumare Plus Soma Grenada 70% Black Science Bars Reviewed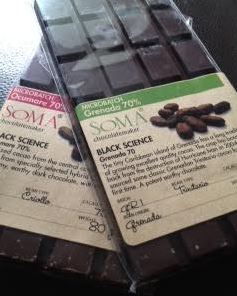 I will always remember my first Ocumare. I was 35,000ft in the air over the Atlantic Ocean. I was behind on reviewing and so I had brought along a few bars I had purchased in order to review them. I remember being worried by the weird origin but figuring I had other stuff to get rid of the flavour I went for it.
I remember the flavours of marzipan – but nice marzipan (and I hate marzipan) explode in my mouth and I remember checking to see if anything had been added. The cherry was too intense, the almond to pronounced for it to be real. It was. Since then I've become a little bit of an Ocumare groupie. I buy Duffy's milk Ocumare bars in multiples. It's my handbag chocolate.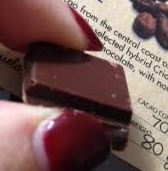 Ocumare – The smell is good and chocolaty but I get notes of aniseed, cherries and almonds.  The flavour of the chocolate is amazing but it is also super smooth with a great melt. The flavours are not totally the marzipan I got from the Coppeneur and Duffy's but they are INTENSE! That cherry is like an intense sour cherry and the almond is an unroasted almond. It's just incredible. WILD!
But Ocumare is not along in the world of chocolate and there are other chocolate producing nations that Soma have turned their hands to. The beans, in their hands, become something more – something beyond what they could have achieved in a lesser mortals hands…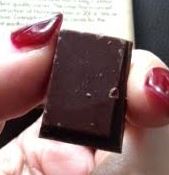 Grenada – good chocolaty smell – quite chocolaty. It is the essence of chocolate, like the quintessential chocolate smell.  The taste is chocolate – a deep, dark chocolate. It is almost earthy but the flavour is fudgy chocolate. There is an edge of sweet as though it could go darker to maybe 75% or80% but this is an amazing dark chocolate to learn to love dark chocolate with. No challenging flavours, deep, dark rich chocolate flavour with a delightful finish – like eating a sweet brownie in chocolate bar form. On the finish there is almost a hint of red berries.
Beans are all unique and they all taste different based on their season, region, genotype and the care and attention they are given as they grow. Remember this the next time you go to choose a bar and simply pick a Soma favourite and make that your handbag or briefcase or desk drawer chocolate 😉
No matter what you choose you know if Soma made it, it'll be the best the bean has to offer!