May 23, 2014
York Chocolate Stout Reviewed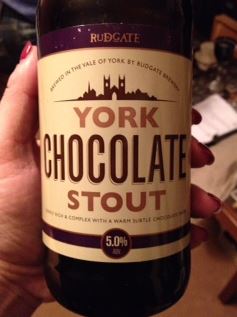 No, this isn't beer made from a chocolate bar. Yes this is a beer with a cocoa element to it.
I was given this beer as a gift by Sophie from York Cocoa House in York. She had work in collaboration with the brewer to create this beer. Now, I've had double chocolate stout before so I was pretty sure I knew what it would be like and was prepared to be underwhelmed.
I was blown away.
The chocolate stout has a nose of the most amazing cocoa. I think it has to have been Madagascan or Venezuelan because the cocoa notes were so gorgeous and pronounced. The flavour was rich and not sickly sweet. There was a deep flavour, enhanced perfectly by the cocoa. There was no hint of anything being added or artificial – this was all from nibs being a part of the process. Custom made beer brewed to perfection.
It was *not* like drinking a chocolate bar nor did it bear any resemblance to hot chocolate or cold chocolate or anything like that. It was, however, distinctly chocolaty. This was a GORGEOUS beer! BUY SOME!