May 26, 2014
Soma Cocoa Late 45% & Papua New Guinea 85% Bars Reviewed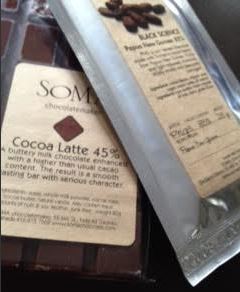 The Independent State of Papua New Guinea is an Oceanian country that occupies the eastern half of the island of New Guinea where it seems to rain more than anything Most cocoa beans are dried in the sun but iIn Papua New Guinea it rains so much that the sun is short supply. That means that wood fires become a practical drying solution. This, of course, leads to the cocoa beans taking on that smoke as part of their flavour. Not always as I have had some with only slight smokiness which allows flavours through. Papua New Guinea (PNG) cocoa beans are capable of producing a fruity rich chocolate, but those flavors often fail to emerge from behind the smokiness.
That said, there is a lot of pleasure in a smoky chocolate. Pairing it with whisky can be a flavourful experience and eating it on its own can create new chocolate fans.
Cocoa Latte – note to self – do not store anything anywhere near to a PNG bar >_< There is a slight smoky edge to this which I am sure is not meant to be there. Under that, there is the most gorgeous, deeply malted milk flavour coming through. Absolutely stunning! My goodness – if I hadn't accidentally stored it with the PNG bar I'm reviewing next, I'd be inhaling it!
Papua New Guinea – Absolutely slightly acidic, a bit fruity and smoky. Wow – I don't like PNG chocolate but this is amazing. It's the astringency that has captured me and made my mouth water. Slightly bitter on the finish where my mouth feels a bit dry and that smoke is catching in the back of my throat but the overall effect is amazing. You'd absolutely NEVER know this was an 85% chocolate bar. WOW!
Overall deliciousness but if you're not a smoke fan, don't store other chocolate with it 😉