August 21, 2012
Duffy's Star of Peru Milk Chocolate Bar Review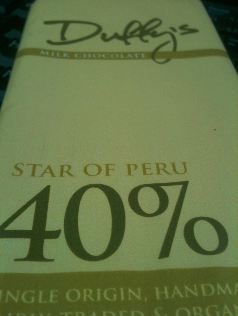 Peru Is somewhere I'd love to visit if they ever sort that bug problem out. Which, given that will be never and I can't take bugs I'm probably going to have to train up to going. A friend has visited Peru at the invitation of the government as she researches her travel books which are themed around chocolate. Check Diversions with Doreen for some insight into her travels for her book.
Star of Peru is a staple of the Duffy's line, coming in the darker format for some time now but when I saw the milk chocolate format I had to buy it. The ironic thing with Duffy's chocolate is that I buy lots and end up giving it away 😮 so others benefit from his gorgeous chocolate while I am left with none.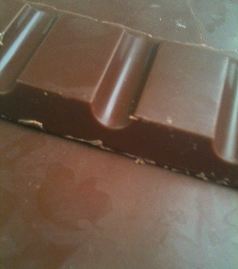 What did it taste like? I did get the spices but rather earlier on than I expected from the tasting notes. The milk powder was distracting to me because my brain was saying 'yummy milk chocolate' while my tastebuds were still trying to sort things out. I think I got a bit of blackcurrant pastille and a hint of the hazelnuts. It is a fairly complex chocolate and as such there is a lot going on in your mouth. There is also a slight grittiness to this possibly from the milk powder. Duffy's chocolate is generally pretty smooth but there was a distinct mouth feel here of larger particles and I'd gamble that was from the milk powder.
I think that if you are looking for something more complex in your milk chocolate but aren't ready to make the leap from sweet milk chocolate to the less sweet dark chocolate, this is absolutely a bar to investigate. The complexity of flavours you'll get from this bar will be an adventure in your mouth that you'll love and who knows – maybe at 40% you'll move to 50%, 55% and suddenly find yourself reaching for a 65% without any milk powder in it!