May 26, 2011
Duffy's Panama Tierra Oscura Chocolate Bar Review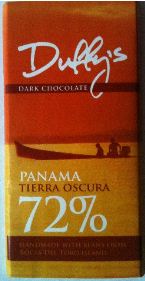 When you get a bar that says it is "handmade with beans from Bocas del Toro Island" beans, the first thing you feel is envy. Envy for the person who gets to travel the world and buy beans from some of the most exotic regions of the world. I mean really, who wouldn't want that job. OK, ya, you caught me… Me. I wouldn't want the job because I hate bugs…
But these are islands… surely there won't be many bugs and how the heck can you grow chocolate on islands – well, as long as the are within the 'magic 30' chocolate can grow anywhere the soil conditions are right but that also means the chocolate will change from year to year. When I was at Pierre Marcolini I could smell the porcelana bean was quite distinct with a note exuded from the bean which followed it to bar but I would bet that the next year would have a different top note. The same is true of all beans but if anyone can bring out the distinct nature of the bean to its fullest potential, I'm confident Duffy can. It'd be awesome to see how it is all done at his "factory".
So this bar was sent to me by Duffy and while I have bought his bars at Paul A Young before, I just cannot get to the shops as frequently as I'd like and so I can't buy as much as I'd like. Also the lack of credit card facilities for the last 6 months has also made it difficult to buy from Paul A Young shops.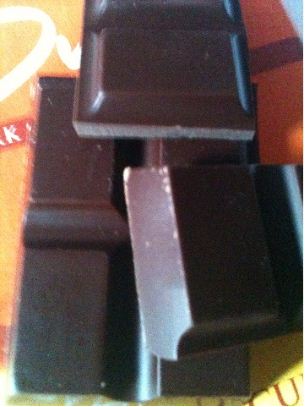 With a completely different flavour profile from other chocolate I have tried, there is an earthiness to this chocolate with a slightly drying feeling in the mouth. Mildly acidic with a lighter taste, this bar actually lacks the fudgy chocolaty flavour of other bars and has a lighter chocolate taste with red fruit as a slight hint. There is the edge of complexity here with a multitude of flavours striving for dominance but instead they work together to create a harmoniously complex flavour which has a light woody base, built through the middle with red fruit and topped with a hint of something I cannot quite put my finger on.
Ya, I put my fingers all over this bar and shared it with around a dozen people who also put fingers on their bits of chocolate but that isn't what I meant silly. Sheesh. Just eat the chocolate and enjoy it already!
This is an awesome bar and I hear that Duffy has won best newcomer for his consistently awesome bars. OK – they didn't say "awesome" but I know that is what they meant.