May 27, 2011
Duffys Nicaragua Nicaliso Chocolate Bar Review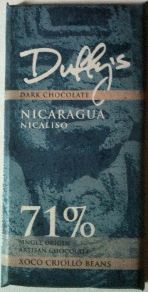 One of the great delights of being a chocolate reviewer is eating chocolate for breakfast and tea. Why? Because this is when the palette is at its height and you can taste all the subtle taste notes in chocolate. Of course, wine with its less sophisticated flavour notes can be tasted at any time of the day (you so know I'm ribbing people here) but chocolate with its greater complexity has a peak window during which it should be enjoyed.
Trying chocolate is really personal though – much like going to a movie. I mean, Transformers 2 did absolutely nothing for me but I understand it was a great hit with a lot of guys I know. I have no clue why. The plot was weak, acting scarce and really was just T&A and robots… what… oh wait… ya… and they're doing it all again. I get it now…
Anyway – the chocolate. This chocolate has nothing to do with transformers but as with all chocolate it has a lot to do with wine. I'm not a fan of woody notes in my chocolate but I have to admit that I did enjoy this – possibly because the woodiness is subtle or perhaps because of the clean finish. Whatever the reason, this is a premium chocolate worthy of praise.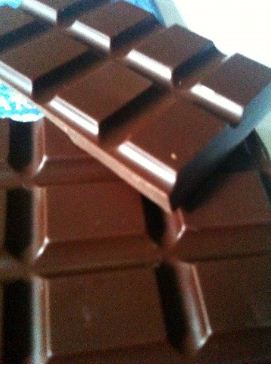 This is a dark choc with a slightly grainy texture but extremely pleasant. The very dark chocolate is a deep rich brown colour that you imagine all dark chocolate must be but dark chocolate of course has many shades. This chocolate has a rich deep almost earthy scent to the chocolate and once in your mouth it is quick to melt having a gorgeous chocolate-dipped raspberries flavour with some hints of blackcurrant and at the end of it all it completes with a woody finish. Once again Duffy's bars have an extremely clean finish, lingering enough to make you remember the chocolate but leave you hungering for more.
I think everyone should simply buy one of everything Duffy does and just enjoy each one on its own. Some they'll love, some they'll not love as much but none of these will you hate. They are a delicious miracle of chocolate and the kind of miracle I think is only possible from a small producer. I just wish all chocolate was made to this kind of standard – I'd certainly be happier!!