May 25, 2011
Duffy's Corazon Del Ecuador Chocolate Bar Review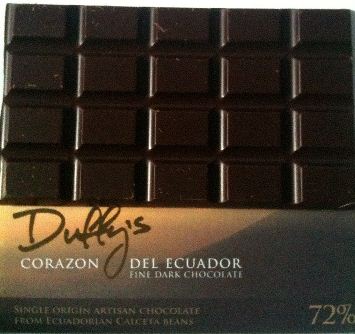 I've been a secret Duffy fan for awhile. I have to be a fan of something to splash the cash really, and I have purchased Duffy's bars more often than I have blogged about them. I have shared Duffy's bars too which I only do with chocolate I love and for a newcomer, Duffy has done something in a year few achieve in a decade – he has created some phenomenally delicious chocolate.
Duffy left the world of racing and decided to make chocolate and in less than a year of operation he has shown the world what artisan bean to bar chocolate can be like. In fact, he has shown the Academy of Chocolate what it can be like and impressed them so much he has walked away with a number of prestigious awards!
This chocolate is a bronze winner and is just delicious. The flavour is of dark ripe fruits based in a rich brownie dark chocolate. There is a hint of nutty spice with a full raisin finish. The melt is clean and smooth with no grittiness in your mouth. Melts is really fast – faster than I'm used to but this is no bad thing. Finish is clean and slightly fatty, leaving a pleasant lingering taste of the full fudge brownie behind.
This is a lovely chocolate bar and is a bit surprising given what I usually expect from an Ecuadorian cocoa bean. I really think you can pretty much buy any Duffy's bar and be well pleased and in fact you can buy online from Red Star Chocolate direct which is Duffy's own company.